All website optimization tactics directly influence how search engines rank your site. One tactic that is often overlooked is optimizing your contact page, which is particularly important for local SEO. It's crucial because it helps search engines understand the local relevance of your business and enhances your visibility in local search results. And after reading our Local SEO Guide: What is it + How to do it, you know how important local SEO is for your business and our local Saskatchewan economy. 
Optimizing a contact page for local SEO is very important for small businesses competing with larger brands. The process, although relatively easy, involves specific strategies to make your business more visible to local customers in search engine results.
At Blue Moose Media, we are always rooting for the little guys, and we figured you'd appreciate a step-by-step guide on how to optimize your contact page for local SEO to make it easier for users to find and connect with you.
On-Page SEO for Your Contact Page
11 Tactics For Local On-Page SEO
1. Consistent NAP Information
What is NAP? NAP is short for Name, Address, and Phone Number. We cannot overstate the importance of maintaining the consistency of this information online. In fact, if it appears differently throughout the internet, the search engines will notice and penalize you for it. With this in mind, verify that your business's NAP information is consistent and accurate across your contact page, exactly as it shows on your Google Business Profile listing.
2. Use a Contact Form
Contact forms are convenient and they help provide a good user experience. Being able to submit a message directly on your website streamlines the process for users and for the customer service team. In the name of convenience, keep the form simple and easy to fill out. You would generally include fields for essential information only such as name, email address, subject, and message. Last but not least, be sure that your contact form is mobile-friendly.
3. Use Location-specific Keywords
Including keywords is essential to SEO. In terms of local SEO, it's important to incorporate location-based keywords naturally into your contact page's content, headings, and meta tags. For instance, if you're a restaurant in Regina, Saskatchewan, use keywords like "best restaurant in Regina" or "Regina Restaurant."
4. Google Map Integration
Embed a Google Map on your contact page — it's a valuable addition that aids users in effortlessly locating your business. This is especially important if you have clients and customers frequently visiting your location. Visitors can access directions and zoom in to explore the surrounding area, enhancing their overall experience with access to a visual guide to your physical location.
While Google Map interactions might not directly impact SEO rankings, they contribute to a positive user experience and can indirectly influence user behaviour and local engagement, which can, in turn, impact SEO performance. As always, it's important to focus on providing valuable and user-friendly features on your website to enhance user experience. Once your map is embedded, check to make sure it's interactive and responsive on all devices.
How to embed a map: 
Search your company on Google Maps
Click "Share" + "Embed a map"
Copy the HTML
Insert the code into your contact page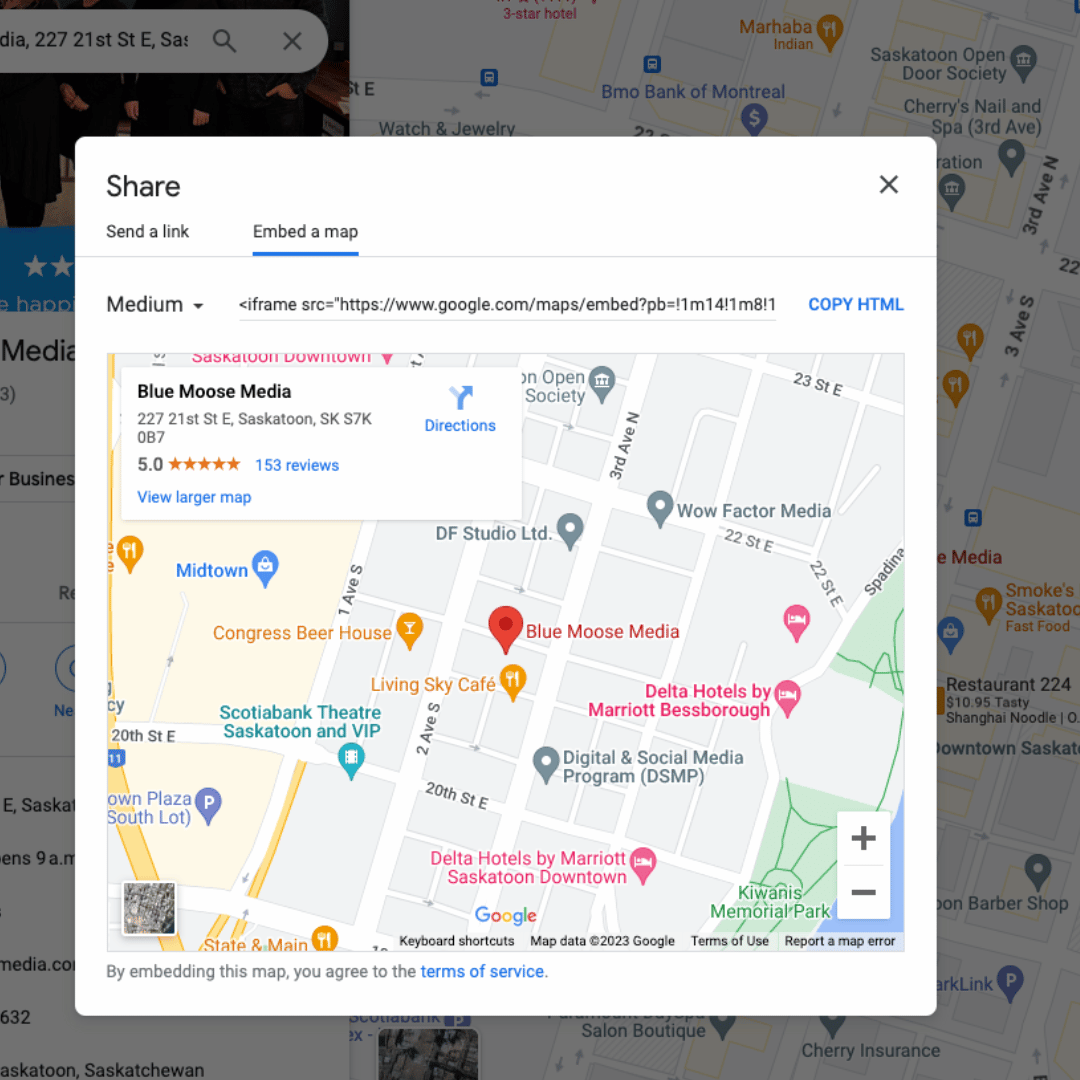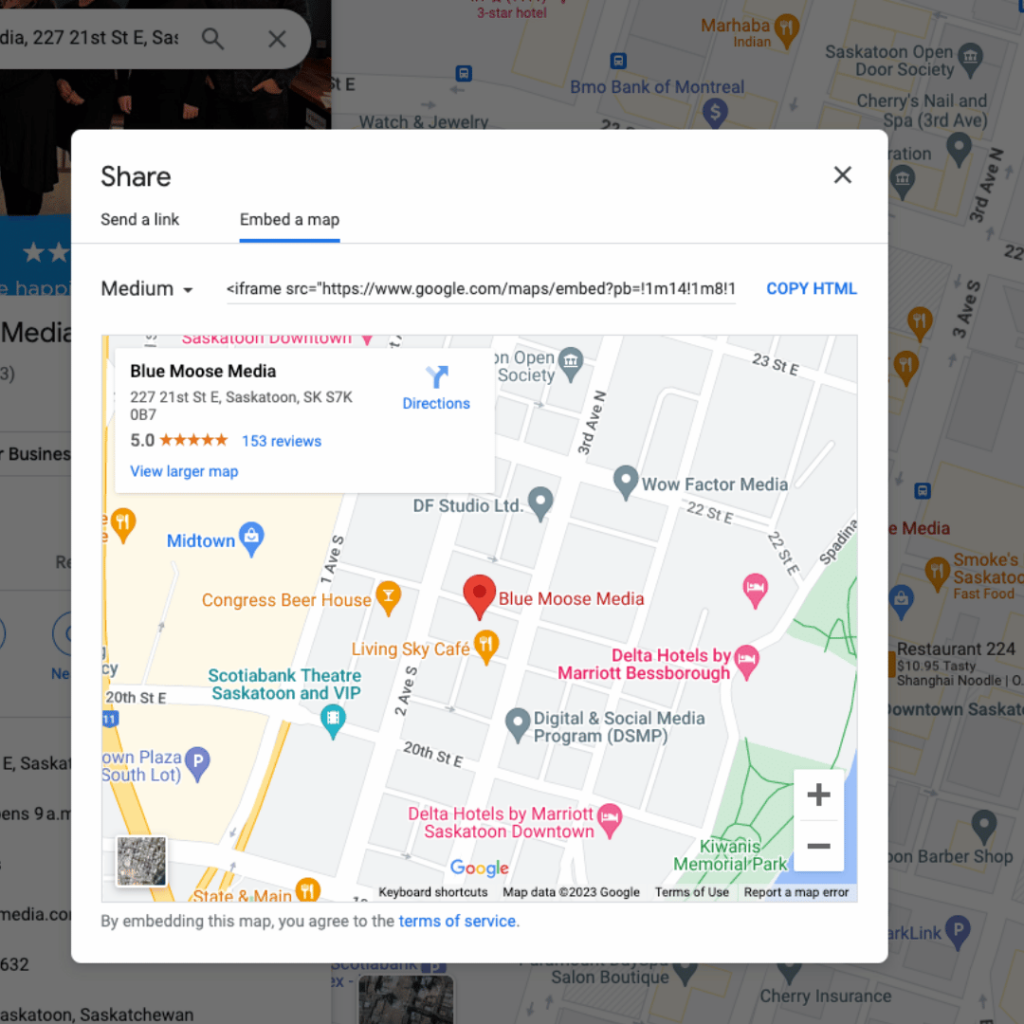 5. Google Business Profile Link
By providing a link to your verified Google Business Profile, you're reinforcing your local presence and helping Google associate your website with your physical business location. Get started with Google Business Profile here. 
6. Localized Content
It's important to mention different areas you serve, nearby landmarks, neighbourhoods, or events to further connect your business with your local area.
7. Customer Reviews + Testimonials
Reviews are integral to the success of any small business. Positive reviews from customers act as social proof, demonstrating that your business is trusted and valued by real people in the community. This trustworthiness can encourage users to choose your business over competitors. Not only should you display reviews on your contact page, you should also consider creating as option to leave a 5 star review from your contact page. Google sees this as a positive ranking signal, and oftentimes reviews include keywords that will also boost your SEO.
8. Multiple Pages for Multiple Locations
If you have multiple locations, create separate contact pages for each location with specific NAP details and relevant content for that area. This helps your customers and Google avoid conflicting contact information. It also allows you to go more in-depth with localized content for each location, helping improve your local SEO.
One thing you should consider is connecting a store locator from your primary navigation bar to each individual contact page. You will also want to link to each contact page at the footer of your website.
9. Localized Images
Be sure to use images that showcase your business in a local context. For instance, include photos of your storefront, staff, or products with local scenery or landmarks in the background. Don't forget to optimize your images! (here's how)
10. Localized Meta Tags
Specifically on your contact page, include those local keywords in your meta tags to attract local search traffic.
11. Have a Clear Call-to-Action (CTA)
Craft a clear call-to-action that encourages visitors to take local-specific actions, such as "Visit our store in [city]" or "Contact our [city] branch."
Technical SEO for Your Contact Page
Technical SEO is complex and involves optimizing the backend of your website for search engines. Just as you rely on a skilled mechanic for car engines, it's best to leave technical SEO to a developer. Here are a few things you should know if you reach out for technical SEO help to optimize your contact page.
1. Local Schema Markup
Schema markup is like special tags you put on your website to help search engines understand what your content is about. It's like giving search engines a guide that makes your website show up more clearly in search results and provides extra information.
Local business schema markup is a specific type of schema markup that provides structured data about a local business's location, contact details, opening hours, and other relevant information. It helps search engines understand the local context of the business and can lead to enhanced search result snippets, such as maps and contact information.
It's helpful to implement this type of schema markup on your contact page as it will help search engines understand certain elements of your website better.
2. Mobile-Friendly Design
Many local searches are performed on smartphones. With this in mind, always be sure to optimize your pages for a mobile experience.
3. Test and Monitor
Just like anything, it's important to regularly monitor your contact page's functionality using tools like Google Search Console and Google Analytics 4.
In Summary
To sum things up, optimizing your contact page for local SEO ensures that your business is accurately represented in local searches and helps you capture the attention of nearby customers who are actively seeking products or services in your area. It's an essential step in connecting your business with its local community and potential customers.
By implementing these strategies on your contact page, you can enhance your local online presence, become more easily discoverable, and improve your chances of attracting local traffic and customers.
You're Invited!
Join our community of savvy marketers and entrepreneurs by subscribing to our monthly newsletter, The Monthly Moose.
You'll receive valuable insights, tips, and updates on the latest trends in digital marketing and social media.