Your guide to Local SEO for your small (SK) business 
Hello from your local, local SEO experts here at Blue Moose Media. Our goal is to help you understand what local SEO is, the benefits of using local SEO as a strategy for your small business, and how you can do it yourself. Let's get into it!
Chapter 1: What Is Local SEO?
Local SEO is crucial for small businesses to attract local customers and improve their online visibility on Google. Any business that has a physical location or serves a geographic area can benefit from local SEO. For businesses in the Saskatchewan economy, local SEO is an imperative part of driving economic growth, supporting other local businesses, and fostering a sense of community. 
Chapter 2: Why Is It Important?
Local SEO is our best-kept secret for small businesses competing with larger brands.
Here's why: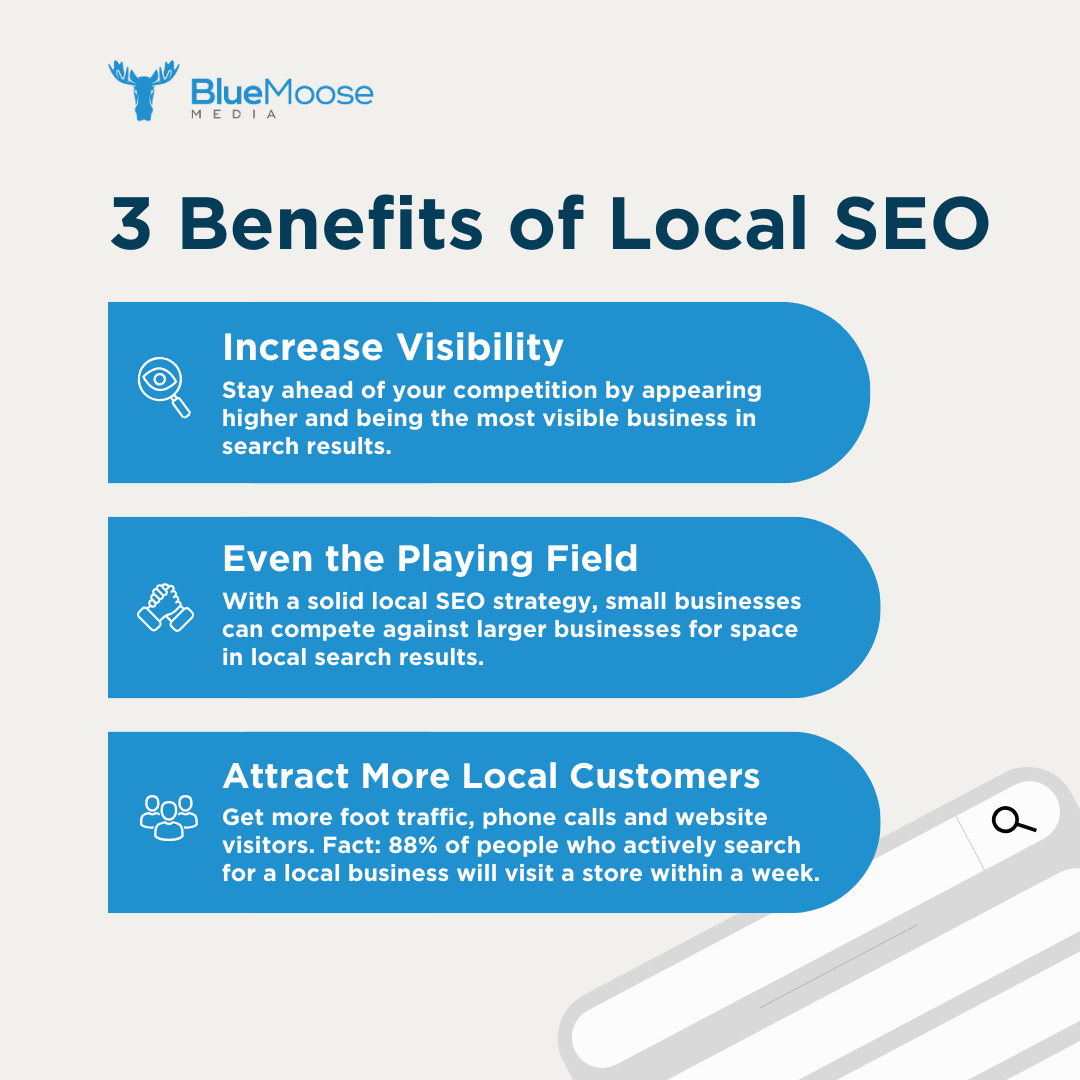 Increased Visibility
Google pays attention to the geographical location of a person who is doing a search, and you can take some simple steps to ensure maximum visibility for your business in your local area by specifically targeting a local audience. By focusing on local SEO, your business can appear higher in search results for local queries. 
With a local SEO strategy, when someone searches for a product or service in your area, your website and Google Business Profile will appear higher in search results, making it more likely that someone will click through to your website. 
Guess what else this will do? It will ensure that you stay ahead of your competition by being the most visible local business in search results. 
Support for Smaller, Local Businesses
Local SEO and marketing initiatives help level the playing field for small and local businesses against larger competitors. With effective optimization techniques, small local businesses can compete for top rankings in local search results, allowing them to gain visibility and exposure that may have been difficult to achieve through traditional marketing methods or even paid advertising tactics as larger competitors often have a larger budget. Local SEO gives small businesses the opportunity to compete against larger businesses. 
Attracting More Local Customers
Want increased visibility, more foot traffic, phone inquiries, and website visits? Would you also like to boost your sales and revenue for your business? Local SEO will help you achieve all of this by attracting more local customers to your business. 
By optimizing your online presence for local search queries and using targeted advertising methods like local keywords and location-based targeting, businesses can reach your desired customers effectively.
Local SEO helps you build trust and credibility with local customers. Here are some solid statistics that support this idea: 
88% of people who search for a local business will visit a store within a week

28% of all local searches result in a purchase
Excited to try this SEO thing out? Keep reading to learn how to optimize your website for local SEO.   
Chapter 3: How Does Local SEO Work?
On top of Google's usual ranking factors, its local search algorithms use three main factors to help find the best match: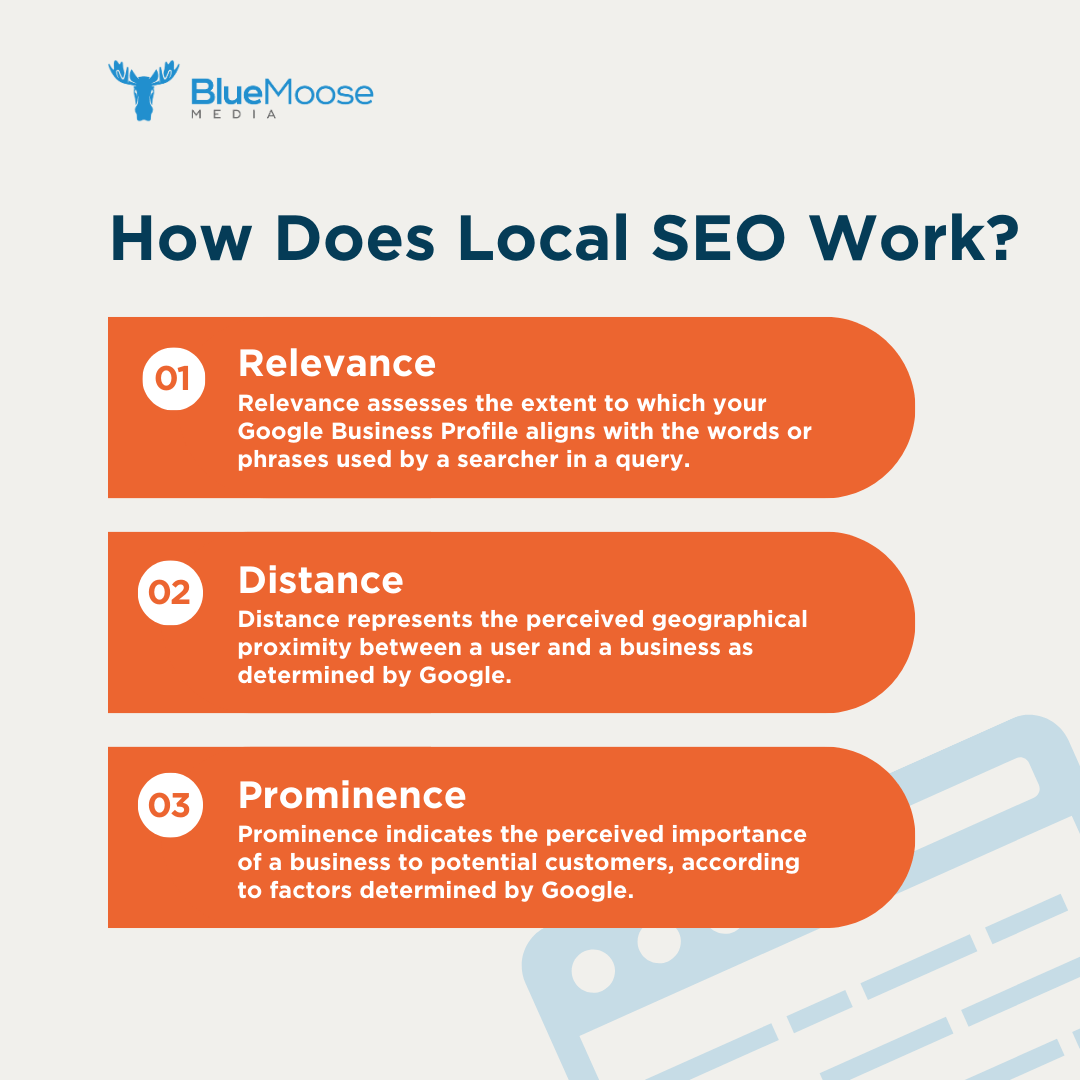 Relevance
Relevance assesses the extent to which your Google Business Profile aligns with the words or phrases used by a searcher in a query. Google evaluates various aspects, including your business's category, attributes, description, and keywords, to determine its relevance to the user's search intent. If that isn't a good enough reason to optimize your Google Business Profile, we don't know what is!
Distance
Distance represents the perceived geographical proximity between a user/searcher and a business as determined by Google. It considers the physical location of the user and calculates the distance to relevant businesses when conducting the search. Does this mean your business could easily become the top local result and you have an opportunity to outrank your local competitors? Yes, that's exactly what that means. 
Prominence 
Prominence indicates the perceived importance of your business to potential customers according to Google. It considers various factors such as online reviews, ratings, citations, backlinks, and overall visibility across the web. Businesses with higher prominence are more likely to be prioritized in local search results. Talk about some motivation to optimize for SEO!
By this point, we're sure you're feeling ready to start improving your local SEO. To get a great jump on it, we have six areas of focus for your small business website. 
Chapter 4: How to Improve Your Local SEO


1. Use Local Keywords  
Using local keywords in your website content is an effective way to improve local SEO. Consider including things like cities, provinces, and the neighbourhoods your business serves. Conduct keyword research to identify the most relevant local keywords for your business and incorporate them into your website content. This includes your website copy, meta descriptions, image alt tags, and header tags. 
Be sure to include seed keywords related to your business and industry. Seed keywords are general keywords that are relevant to your products or services. For example, if you run a restaurant in Saskatoon, some seed keywords could be "best restaurant in Saskatoon," "YXE restaurant," "gluten free restaurant in Saskatoon," etc.
2. Optimize Your Google Business Profile 
Google Business Profile is a tool that enhances local visibility, customer engagement, and search rankings in the local context. With a Business Profile on Google, you can manage how your local business shows up across Google products, like Maps and Search. If you run a business that serves customers at a particular location, or you serve customers within a designated service area, your Business Profile can help people find you.
There are many features within Google Business Profile that can take your profile from basic to completely optimized. If you need somewhere to start, begin by ensuring your profile is complete with all of your relevant business information including your NAP (name, address, phone number) and business hours. This article will get you started. 
By optimizing your profile with accurate and consistent information, relevant categories, business attributes, and high-quality images, you will improve your business's local search rankings and visibility. 
3. Get Listed In Local Citations + Directories
Local citations are mentions (or references) of your business name, address, and phone number (NAP) on other websites, such as local directories, review sites, and social media platforms. Research local directories and citation sources and get listed in as many local directories as you can. Consistency is crucial, so make sure your NAP (name, address, phone number) is consistent across all directories. Lucky for you, we're compiled a list of Saskatchewan and Canadian focused directories. Take a peek here!
4. Optimize Your Contact Page 
Optimizing your contact page for local SEO is essential to improve your business's visibility in local search results and make it easier for local customers to find you. Here are some tips to optimize your contact page for local SEO:
Ensure your contact page has consistent NAP information

Embed a Google map

Include local keywords and content (mention any local events, landmarks, or aspects of your business that are relevant to the local community)

Include a contact form 

Include a strong call-to-action 

Ensure your page is mobile friendly 

Display testimonials and reviews 

If possible, have a local phone number rather than a toll-free number. This can help establish your local presence and credibility.
And of course, we we couldn't just leave you hanging so check out this article to learn 11 Ways to Optimize Your Contact Pages.
5. Build Local Backlinks
Finally, build local backlinks to increase your local SEO ranking. Backlinks are links from other websites to your website. You can build backlinks in a number of ways. Firstly, make sure you are creating quality content that makes someone want to link to your page. Be sure to share this content on social media. Afterwards, focus on reaching out to other local businesses, organizations, and bloggers that are relevant or connected to your business to see if they would be willing to link your website. 
6. Obtain Positive Customer Reviews 
One of the most important ongoing tactics you can do with your business on Google is to collect positive reviews, because the search engine treats Google Business reviews as a ranking signal. Research shows that around 73% of local shoppers are swayed by the presence of recent reviews of a business.
High-quality, positive reviews from your customers will improve your business's visibility and increase the likelihood that a potential customer will visit your location. Positive reviews will also enhance a business's reputation and trustworthiness, encouraging more people to choose that business over competitors. The cherry on top: your business can respond to reviews, demonstrating your commitment to customer satisfaction. Yahoo!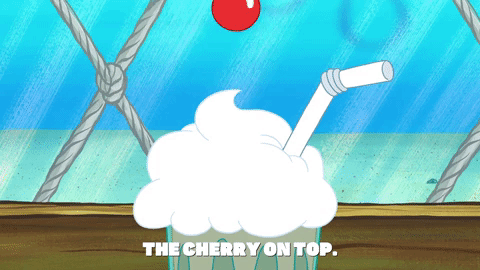 Chapter 5: Conclusion 
So there you have it. We hope you've received a tonne of value and inspiration to use local SEO as a marketing strategy for your business. 
We covered everything about local SEO from what it is, why you should focus on it, and how you can improve it on your own, without hiring SEO experts and expensive local SEO consultants.  
Along with bringing an increase in visibility to your brand, you can see how valuable it is to start optimizing your content using local keywords, utilizing Google Business Profile to its fullest potential, building local citations, being listed in local directories, building backlinks, and soliciting reviews. It's time to take these simple tips and put them to use to attract more local visibility online and more customers overall. 
While you're here, feel free to take a few minutes to enjoy another blog post in our Local SEO series: How to Measure SEO Success.
You're Invited!
Join our community of savvy marketers and entrepreneurs by subscribing to our monthly newsletter, The Monthly Moose. 
You'll receive valuable insights, tips, and updates on the latest trends in digital marketing and social media.