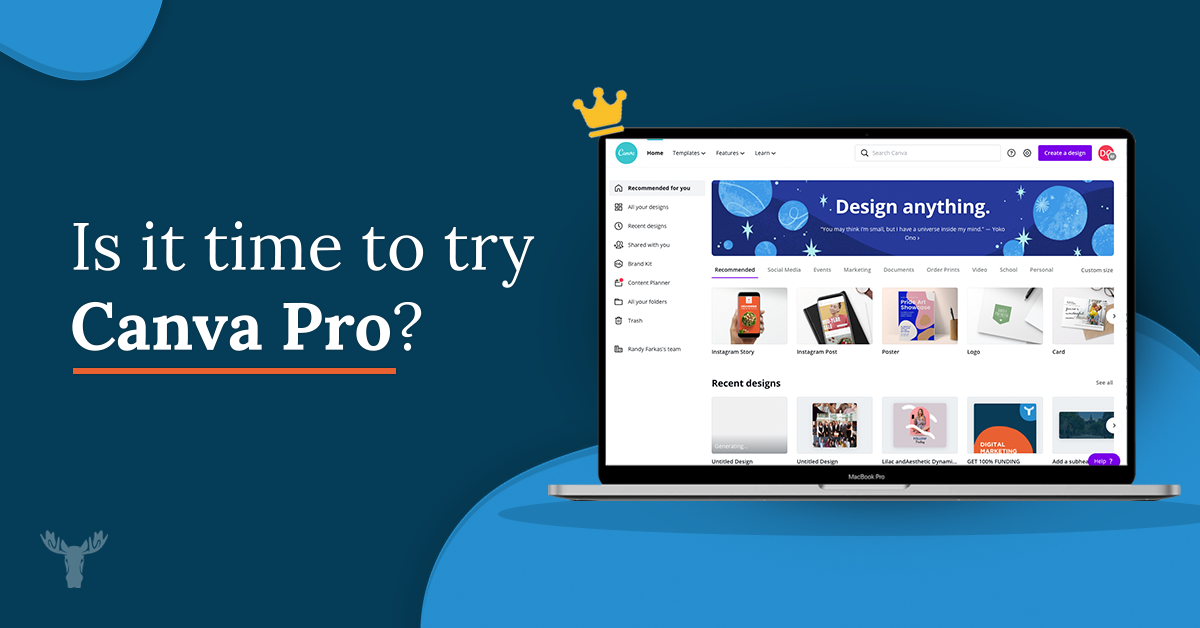 An honest opinion from our team.
As a professional working in a marketing or design capacity, you may already be familiar with the popular platform Canva — a free drag-and-drop design tool that aims to help you create better marketing materials with less effort and has enabled countless people to up their design game when hiring a professional designer isn't possible.

Recently, Canva upgraded and improved their paid version and packaged it together as Canva Pro. We've spent the past month playing around with it, and today we're here to tell you if it's worth upgrading to Canva Pro or not.
Ok, what are the main differences between the two?

This isn't an exhaustive list of every single difference, because there's plenty of those articles out there already, but here are the ones that we believe have provided the greatest value to our own workflow, and hopefully yours..
#1. The Cost
Canva Free, as you guessed it, is totally free and has tons of great features right out of the box, but it is fairly limited in how far you can take it. Canva Pro costs roughly $160/year for 1-5 users (VERY reasonable given what it does), and allows you to try it completely free for the first 30 days if you want to give it a spin first.

#2. Custom Font Uploads/Brand Kits
If this doesn't sound that important to you, it should be. Your brand is only as strong as it is consistent, so having the ability in Canva Pro to use your own fonts makes it a lot more flexible of a platform for creating your marketing materials. With the power of Canva's brand templates, you'll not only have your fonts at your fingertips, but all your colours and logos in one neat package.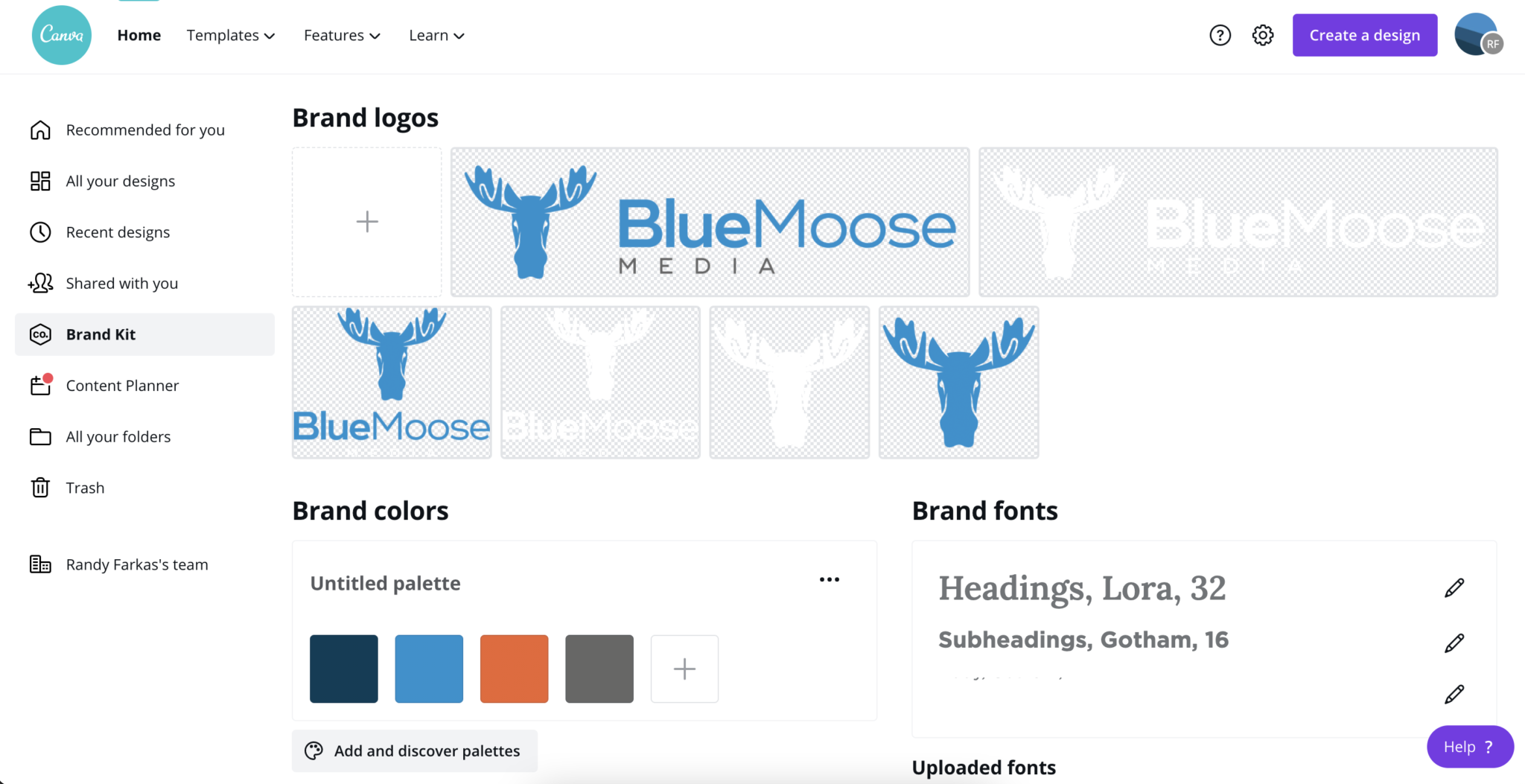 #3. Background Remover
We were quite skeptical when we saw the demo of this feature because anyone who's ever used a background remover knows, they almost always suck. We spent some time editing the backgrounds out of images and were pleasantly surprised by the quality of this tool. Of the roughly 50 photos we tested, only 5 had to be manually edited in Photoshop after. If you have pretty good photos before you send them into the background remover you'll be very happy with the results. Where it struggles the most is with longer hair, but it's pretty great for the most part.
Here's a quick example of before and after: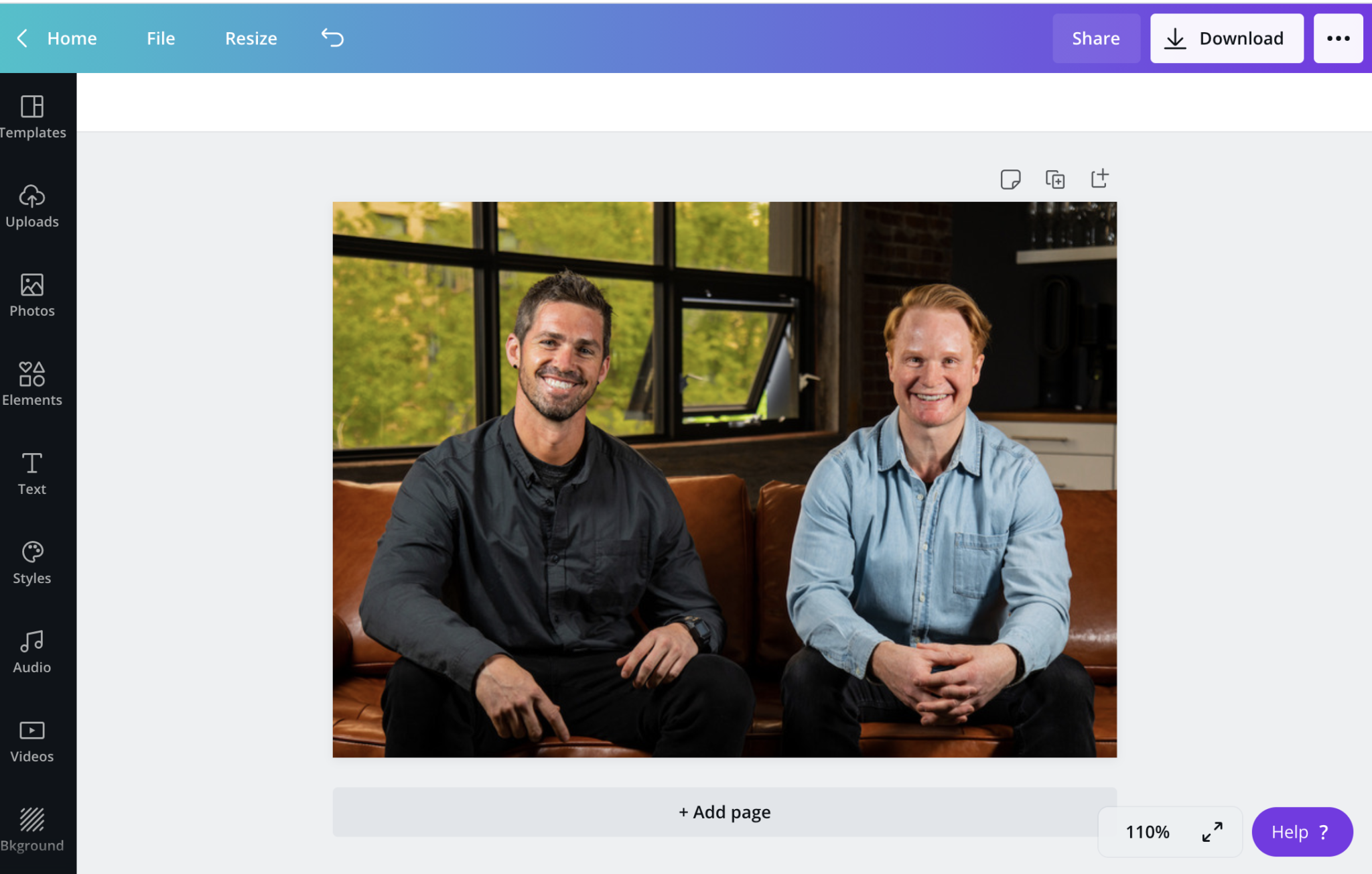 .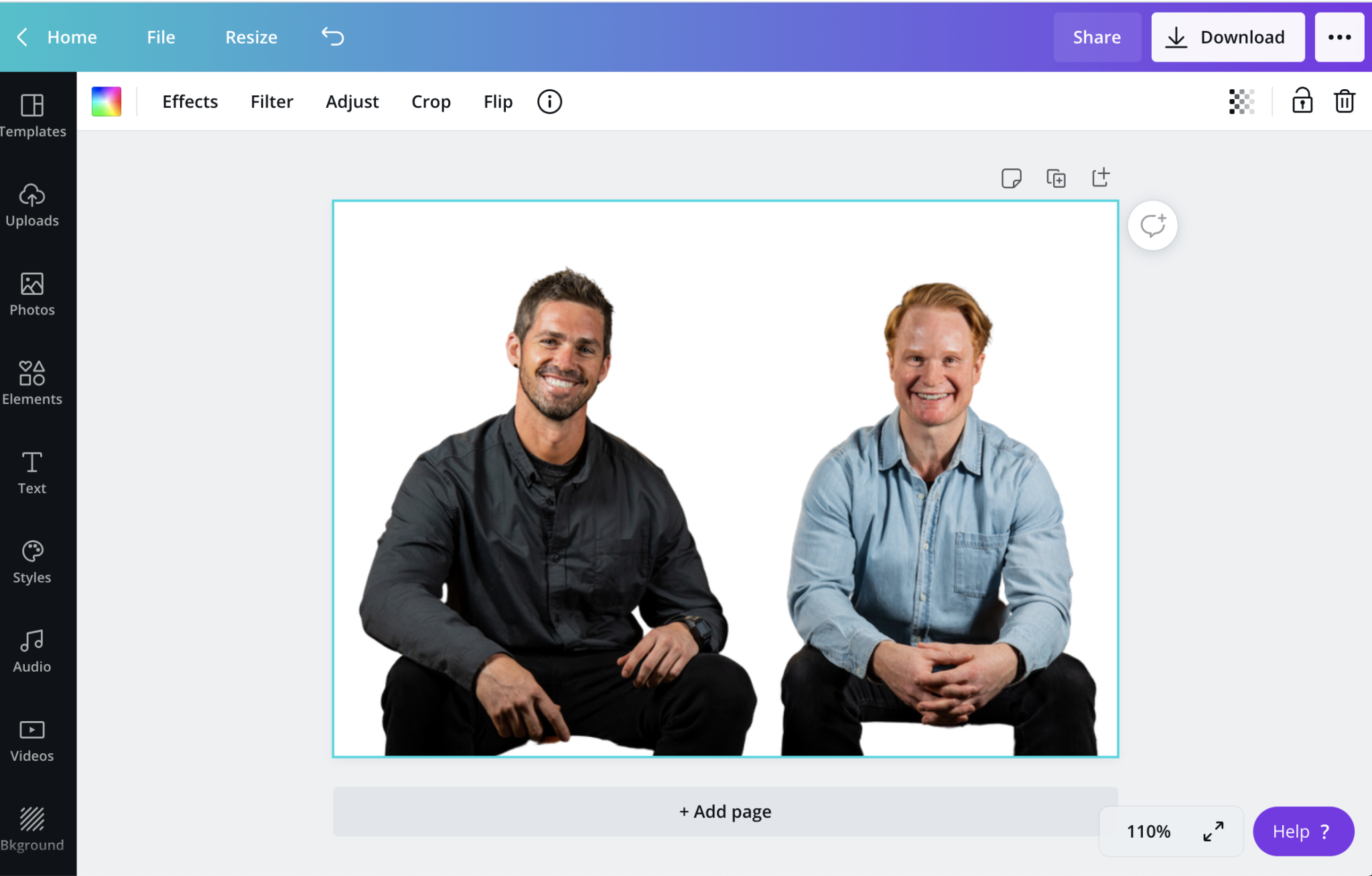 #4. Animation
This is a tool you can easily overuse, but once you get the hang and feel of it, Canva Pro has made animating things like Instagram Stories an absolute breeze. This is really great because even subtle movement can add a professional touch to your designs that make them stand out. The free version does have animation as well, but there are only a few styles to choose from. Here's a relatively simple animation we put together:


#5. Magic Resize
Canva Pro's resize tool is billed as a way to easily alter the size of your design to a variety of size templates. For example, you can turn a post into a story with a few clicks. This tool can frankly be a bit hit-or-miss, but even when it doesn't work perfectly it still saves you some time as it resizes your design closely enough that you can nudge it around to complete it. You can see below that with one click, story design was transformed to a post-sized version. It still requires further design work but it's a great start.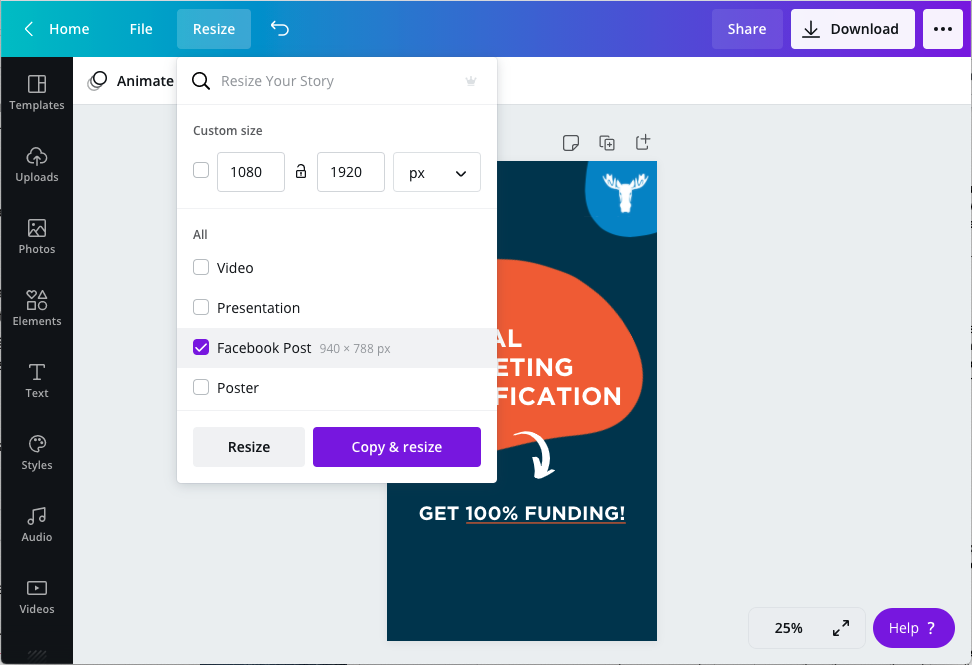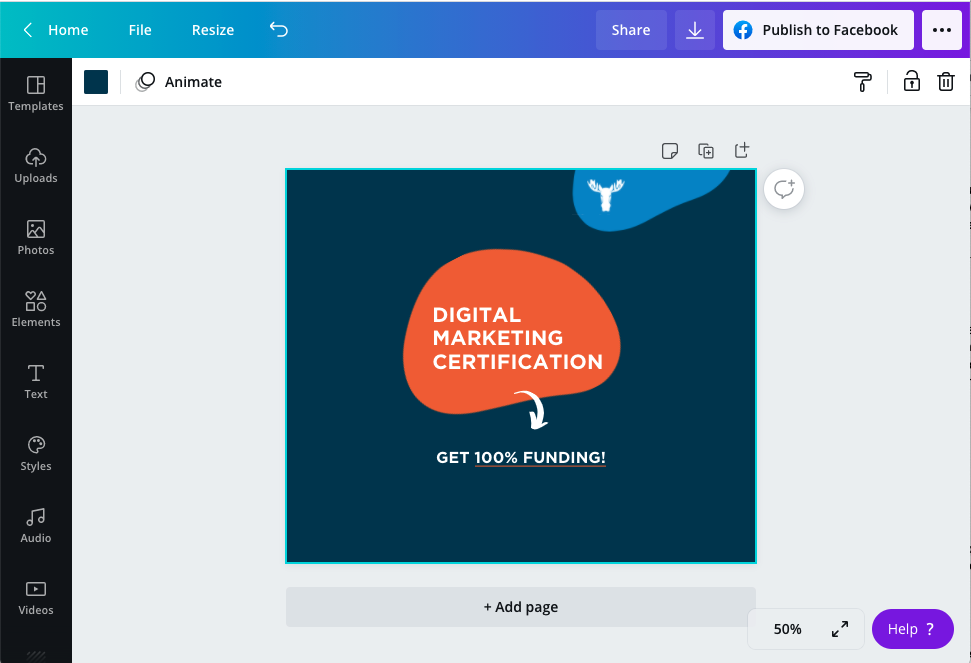 Bonus: we should all be creating multiple variations of our designs to fit across all of the platform placements, and at the very least this tool helps you get in that habit!
#6. Training Wheels
One reason why we love teaching our students about Canva is that it's built in a way that seems familiar if you've ever used other popular design programs. Many of the shortcuts are the same, and the symbols used also work similarly. This is great for beginners because if you get the hang of Canva and then decide you want to try a more robust program, you'll already have some of the knowledge needed to get rollin' and probably won't be as easily frustrated or overwhelmed.


Some concerns we MUST share with you …


#1. People overuse common (and off-brand) templates.
The best (and worst) part of Canva is the built-in templates. There are many to choose from and they can offer great inspiration. However, it's key to choose templates that help you deliver your brand well and consistently. Tweak them as needed to keep them unique and even better suited to your brand. Look at the variety, find inspiration… but don't get "template happy" and continually switch up your look. 

#2. Some people think it's a replacement for a good designer.
It's dangerous (and we don't recommend) considering Canva as a replacement for a great designer. What it can be is a valuable tool that saves you a ton of time and money while empowering your people to create more than they ever thought possible. As a professional designer for the better part of the past decade myself, we often turn to Canva at certain points of a project to help me streamline my workload.

#3. It can encourage the overuse of stock photography.
Canva free allows you to access lots of free photos and Canva Pro gives you access to 75+ million free premium stock photos, videos, audio and graphics. The problem: we strongly recommend using your own photography and videos for your marketing materials. Some stock photos/videos are so obviously posed and inauthentic, your viewer will not enjoy or connect with them. That being said, the availability of these stock options can be helpful for internal, informal creative jobs or for creating concepts to share before setting out to obtain your own custom assets. Students will also find the selection useful for projects, etc. where stock imagery works just fine.


Ok, so what's the verdict?
Overall, we think Canva Pro is the way to go for anyone who's considering using or already using Canva Free in a professional capacity. It easily allows you to get creative, customize and be more consistent with your brand, and can save you loads of time and energy due to its user-friendliness and features. 
BUT remember: with great power comes great responsibility. Stick to your brand, don't overdo it with the stickers and fonts and templates, and don't think it will magically replace the value of a great designer.