People don't simply look something up on the internet…they Google it. And when someone is Googling your business, you need to ensure it will be found—along with some compelling messaging and useful information.
With the addition of Google POSTS to your Google business listing, you are able to include more information and engaging content for potential customers to learn about your business and what you have to offer. When a potential customer Googles your business, your post will show up within your business knowledge panel, which contains all the business information you want your customers to know.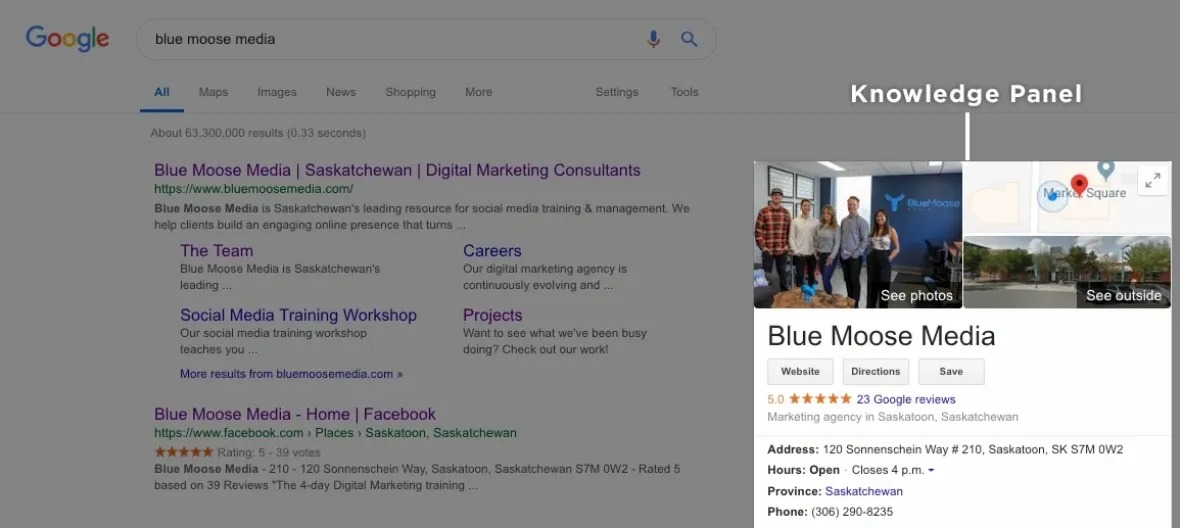 The point of the knowledge panel: to give customers enough data (at a glance) about your business to make them want to engage with your business. By including posts, you'll become that much more engaging.
What Are Google Posts?
Google posts are kind of like mini ads that will appear within search results in Google and Google Maps, when triggered by a search for your business or brand. They are meant to be timely and to share recent business updates, promotions, sales, events, and so on. Due to the timely content, the posts are removed after 7 days.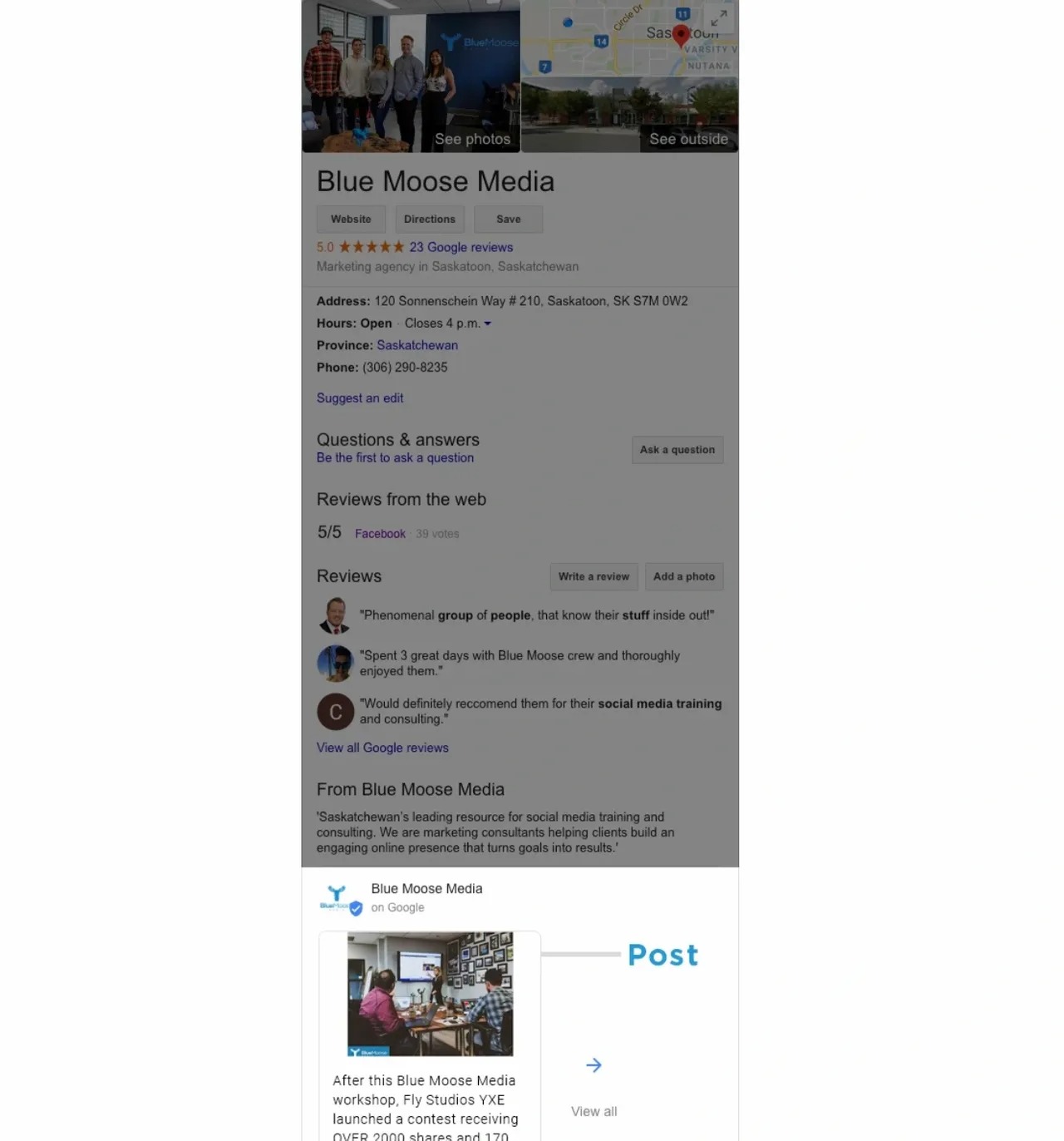 When clicked on, your post will expand into an amazing ad-like box, perfect for promoting deals, sales or products, or simply sharing information directly within Google search results.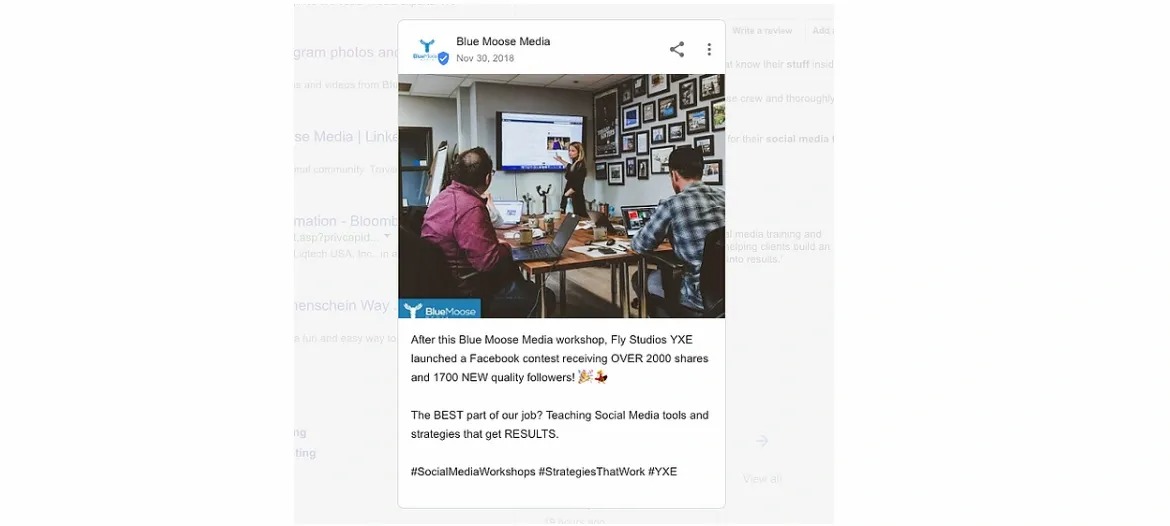 Benefits of Using Google Posts
Giving customers access to more of your business information, updates and offerings as they browse is a definite advantage for your business. The posts feature offers several benefits:
Customers can take immediate action – make sure you leverage the medium to its fullest, making it easy and enticing to act immediately. A CTA button will allow them to take the next desired step.
Direct communication – you have the ability to accept and offer as many forms of contact as possible for your customers: calls, email, contact via a web form, integrating a brief sign-up form, etc.
Improve customer experience with timely information – people appreciate being in-the-know, seeing that your store is open or closed that day for some reason, finding out about a great "today only" special. Keep giving them positive moments by keeping them in the loop at all times.
Promote your sales, specials, events, news, and offers – this info will appear right in front of their eyes without having to leave the search page…use this opportunity to connect with customers in a way that benefits them.
Boost engagement – a Google search is a chance for your business or brand to connect and engage with your audience. The design of posts allows you to adopt relaxed, friendly content that lends itself to highly authentic engagement.
Improve SEO – posts are an opportunity to help Google 'get to know you'. That does not mean good post content guarantees a high position in search engines, but it is certainly a value-add to your strategy.
Useful data – posts provide analytics, so you can see how well a post has performed and which one was most popular with customers, making it a perfect test bed for new methods. Tweak language, offers, and other factors until you obtain the best results.
Something important to note is the minimal investment required to implement posts. They are a maximum of 300 words, don't require much in the way of special optimization, and cost nothing to create. Couple those facts with their decent potential to yield a positive ROI, and posts are worth pursuing for your business.
4 Types of Google Posts
There are four basic types or templates of posts that can be created, although the possible ideas that exist within each type of post are endless (more on that below). Each post type provides your audience with specific details and the option to add a call to action (CTA) button.
1. What's New posts: news, updates and general information about your business. You can include a photo/video, link, CTA button, and other information. For example, you could announce that your business has changed its hours or is moving.
2. Event posts: promote an event your business is hosting, is involved with or supports. Require a title, start/end dates and time, and may include a photo/video, CTA button, and other information. For example, a bookstore may advertise a local author's book signing.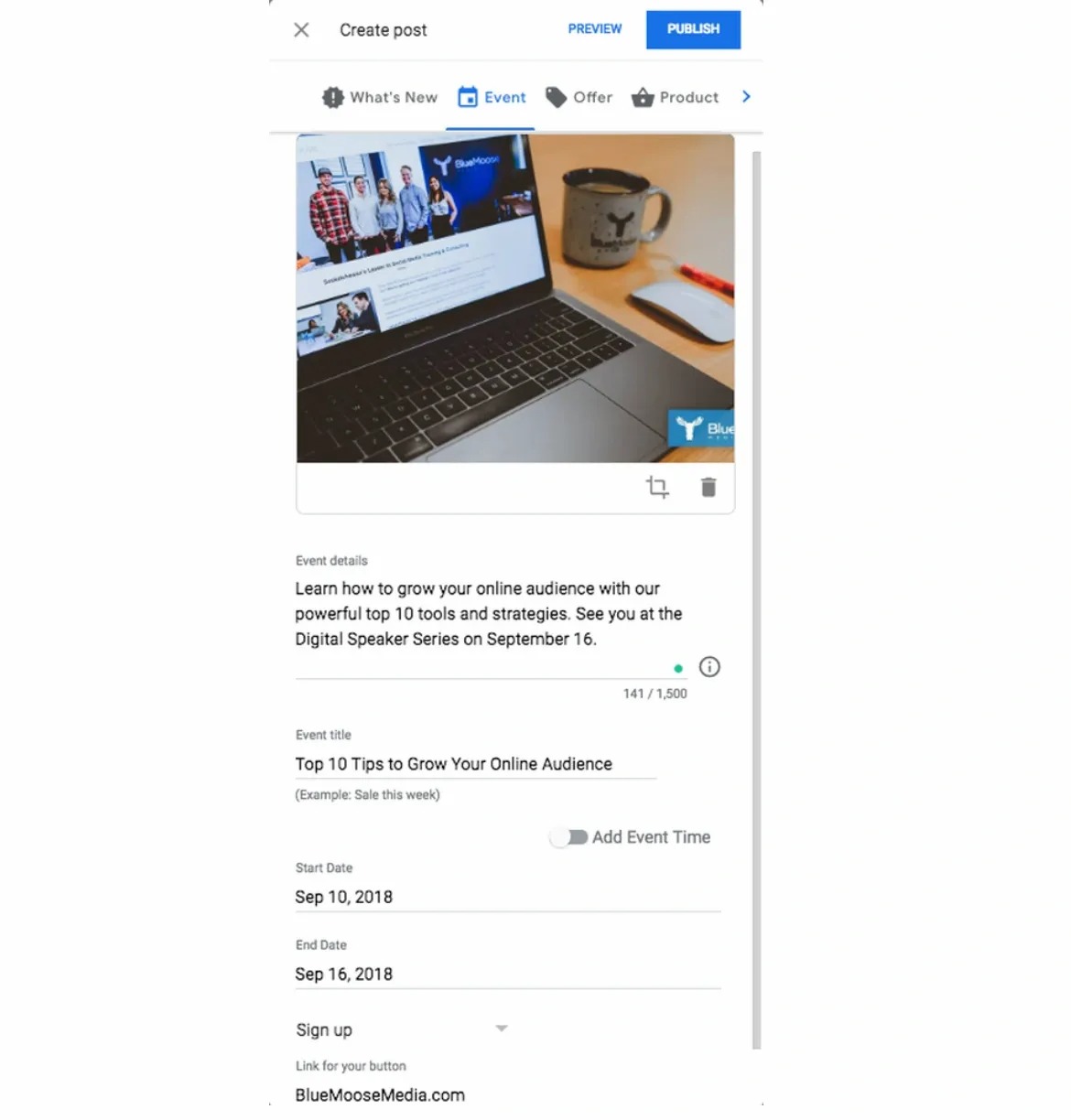 3. Offer posts: provide promos or offers from your business. Require a title and start/end dates and times. A "View offer" CTA button is automatically added to the post. You can also include a photo/video, coupon code, link, and terms and conditions with the post. For example, a restaurant could advertise 2 for 1 appetizers for the next week.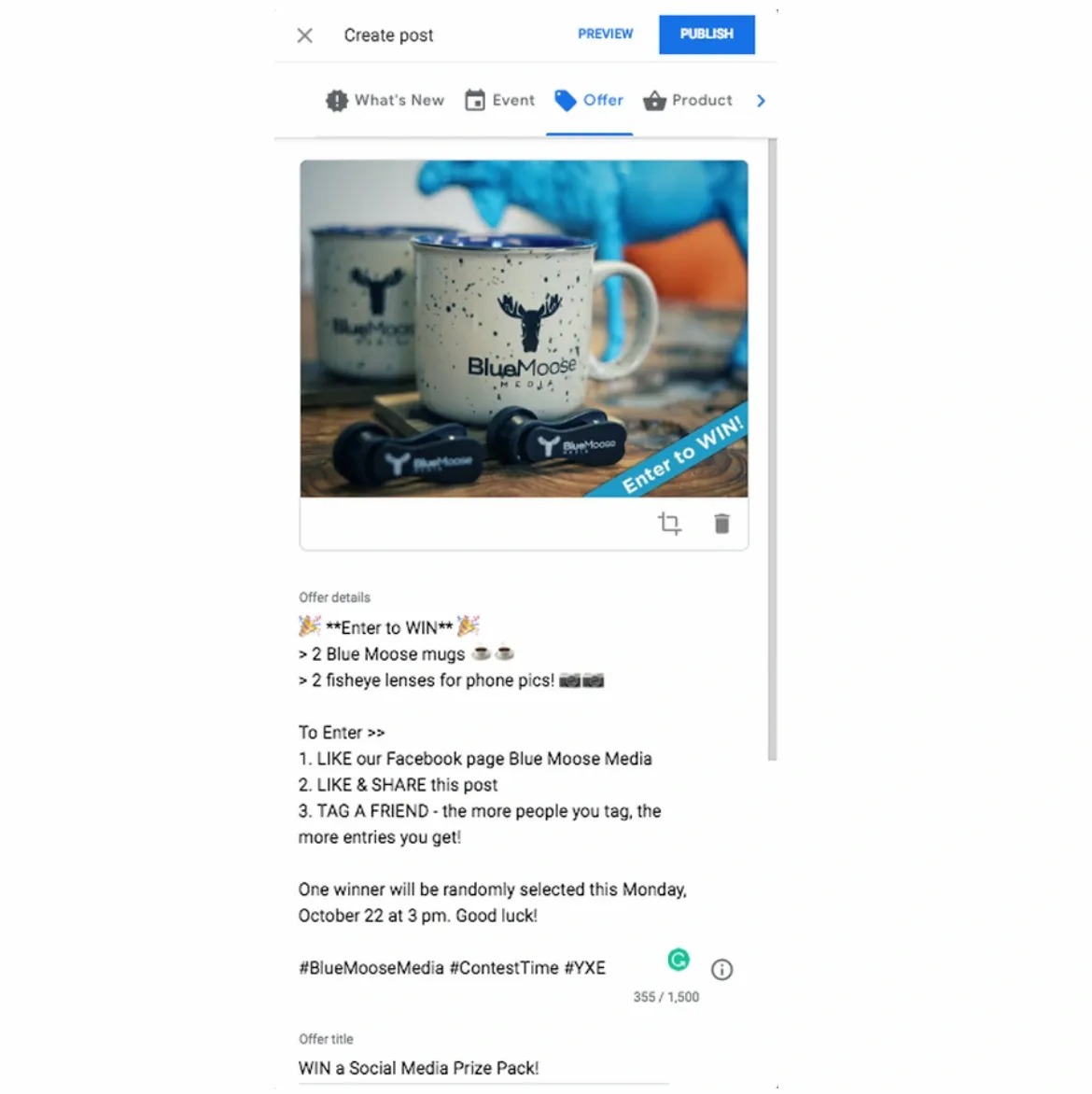 4. Product posts: emphasize a specific product or service your business sells. Require a title and photo or video. You can also include a CTA button and other information. For example, an electronics store could announce they're now selling a hard-to-find item.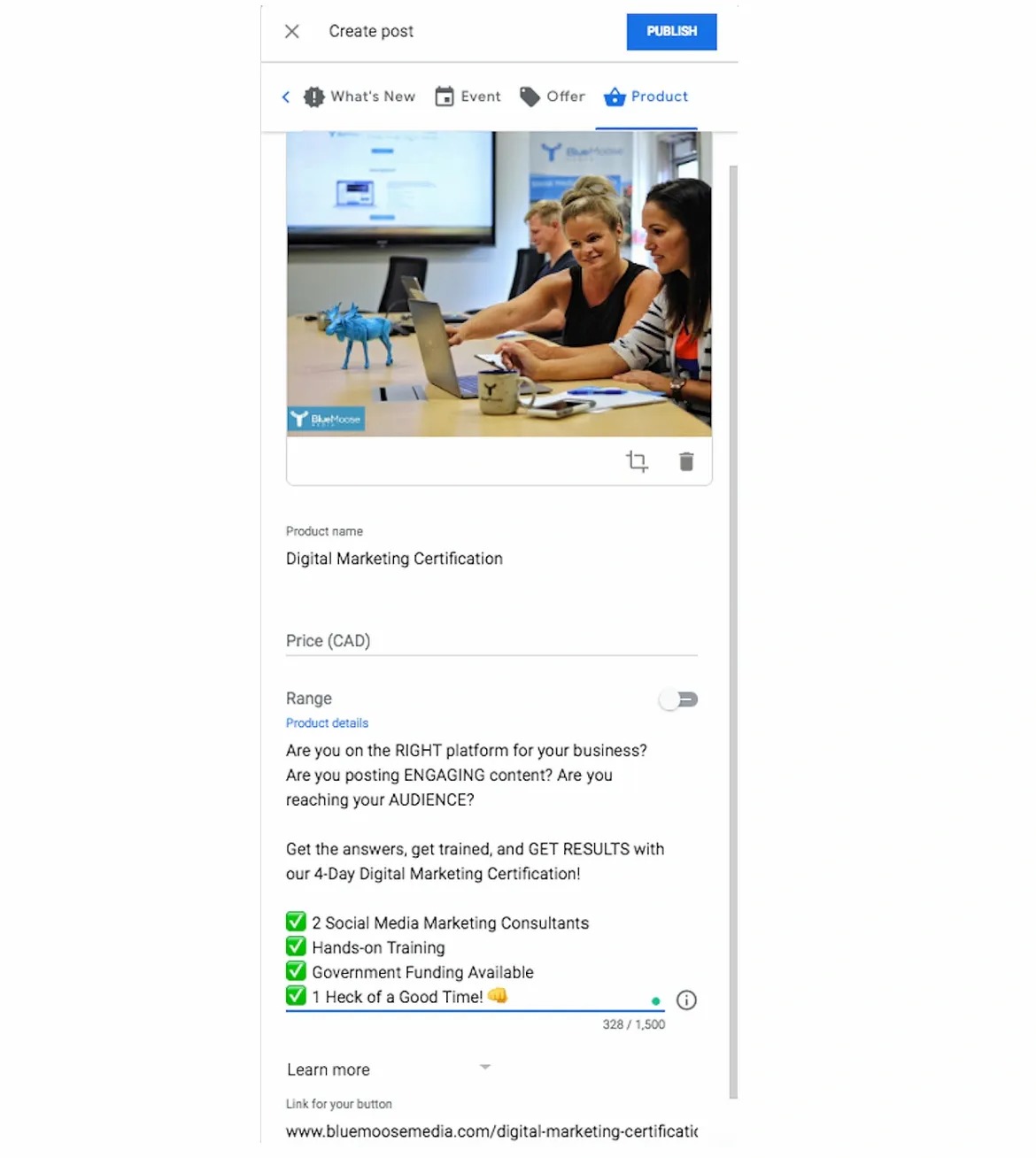 CTA Options
Depending on the focus or purpose of your post, you often have the option of adding a call-to-action button. No matter the CTA you choose, make sure the landing page you send visitors to matches the content of the post and meets a visitor's expectations by enabling them to do the action you've prompted.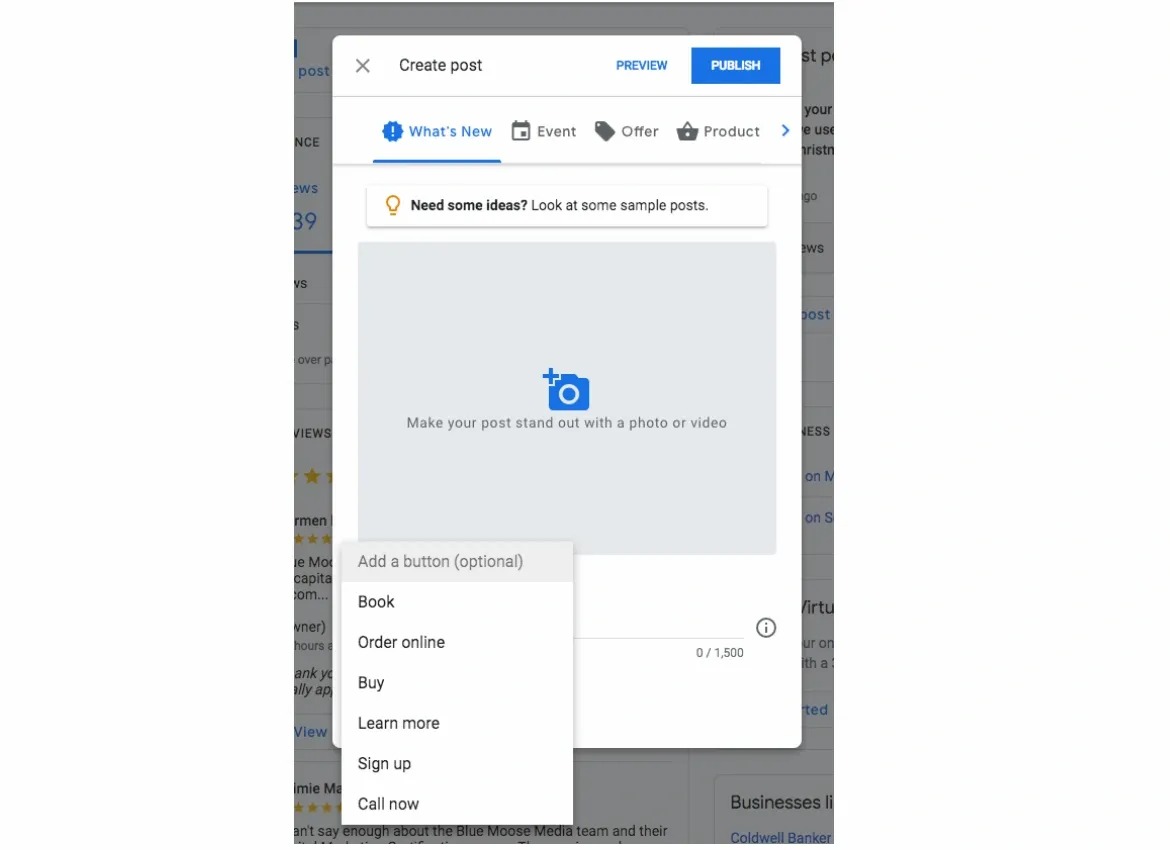 16 Content Ideas for Google Posts
Create an event post with a date and time, and add a link to the event registration page.
Are you planning a sale for a certain number of days? Create a "sale" event post.
Is your latest blog post amazing? Add a short description and link to it.
Feature a hot new product and link to where people can make the purchase.
Simply spread some holiday joy and share a holiday message post.
Announce your daily specials.
Share company news or updates—you're moving, a new hire, achievements.
Allow customers to book appointments with you.
Attract signups for your newsletter.
Offer coupons.
Promote a tradeshow.
New video on YouTube? Link to it.
Feature one of your employees and let people get to know them a little.
Help promote something going on in your community.
Create a job posting.
Run and promote a contest or giveaway.
Best Practices for Creating Google Posts
Creating a Google post on is pretty simple, both in concept and in execution. However, to do it well and effectively, there are some best practices you'll want to follow.
The Do's
Stand out. Include a visible, compelling, concise headline and a bright, well-focused image to attract attention.
Be timely. Use posts to advertise time-sensitive information: temporary offers, flash sales, upcoming events, or seasonal specials.
Be precise: Consider 3 things your customer needs to know. For example, they can do or get this thing, for how much, when? "Join Us for Happy Hour! Half-price milkshakes, Fridays from 5-6PM."
Be personal: Speak directly to the people you're interested in. "Family night out? At Mike's, kids eat free this weekend!"
Be real. Use relatable, conversational language and tone in your copy.
Tell your customers exactly what to do. Make it easy for them to get what they want. "Get your tickets at the front desk starting at 12PM today."
Be proud. Highlight what makes your business, product, or offer unique.
Be clear. Include any redemption instructions, unique codes, or restrictions on offers or sales.
Use abbreviations. For example, shorten days and months, and use symbols like & or + when needed to allow more space for your post.
Be brief. Try and stick with around 100 words per post, even though the limit is 300. On mobile and even desktop, more characters than that will not be visible without clicking into the post.
Be SEO smart. Put keywords and the most important message towards the front of the paragraph of your post.
Size appropriately. The best image size for your post is 750 x 750, centered so it will still look good if it gets cropped.
Go textless. Text on an image may get cut off on mobile devices. When possible, stick with an image with no text on it.
Preview. Be sure to preview the post before publishing. Check for spelling, grammar and proper image cropping.
The Don'ts
Don't use excessive exclamation marks or all caps: "CRAZY SALE today!!!". It's not genuine or appealing in tone.
Don't include more than one theme or offer in one communication: "Half price coffee and tea from 3-6 PM on Fridays, and buy 6, get one free donut on weekdays." This is confusing.
Don't craft a deal with too many exclusions: "10% off new seasonal sandwiches. Not valid on lunch specials or sandwiches with gluten-free bread." It can seem petty and pointless.
Don't use commercial slang/sales-y or overly promotional language. Google explicitly forbids using gimmicky language like "BOGO 50% off!!!" and this post would likely be removed.
Don't underestimate the value of strong, pleasing photography. Out of focus, generic subject, messy background…not a great first impression. Give people a quality visual representation of your business in every post.
*BONUS TIP: Create A Google Post Calendar
You make a social media calendar, a blog calendar, a print advertising calendar…Google My Business posts are worthy of devoting time to plan and schedule the type of posts and content your company will create.
Brainstorm with your team to determine the types of posts you will create and when (holidays, specials, events, sales, new product launches, etc.). This care and attention will help ensure your business is making a positive impression at every touchpoint.​
Like what you learned? We know more things!
Our Digital Marketing Certification offers 4 full days of hands-on training. You'll learn essential strategies and tools to grow your business using social media and digital marketing. Learn more about our industry-leading course HERE.