It's easier than you think…
If you have a Facebook Business Page, you're likely aware that you can monitor the performance of your own content and paid promotions, check out page likes, track engagement and more in your page's Insights section.
But did you know that you can ALSO monitor the performance of competitors and other businesses using Facebook's Pages to Watch tab?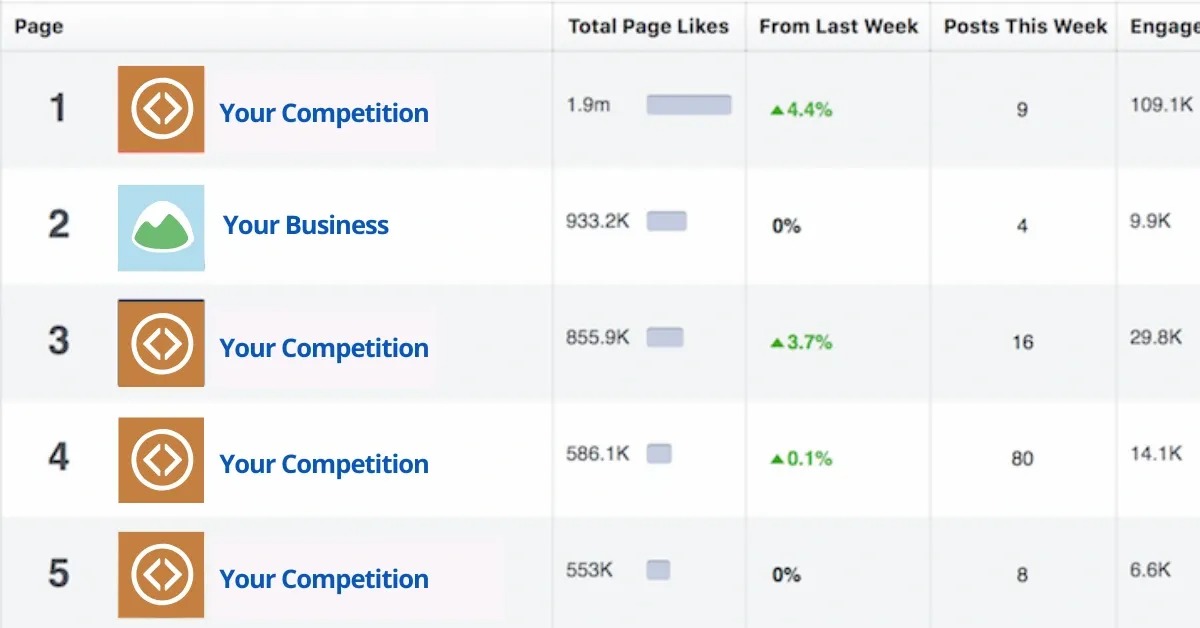 What is Pages to Watch?
With Pages to Watch, you can monitor the performance of other business Pages that you select. Whether they post similar content to yours, have a similar audience to yours, or you find them inspirational and aspire to be like them, this is where you can 'watch' them to see where and how they succeed.
3 Quick Facts:
Your Facebook Business Page needs 100 followers to access this feature.
You don't have to like a Page in order to watch it.
You can create a watch list of up to 100 pages.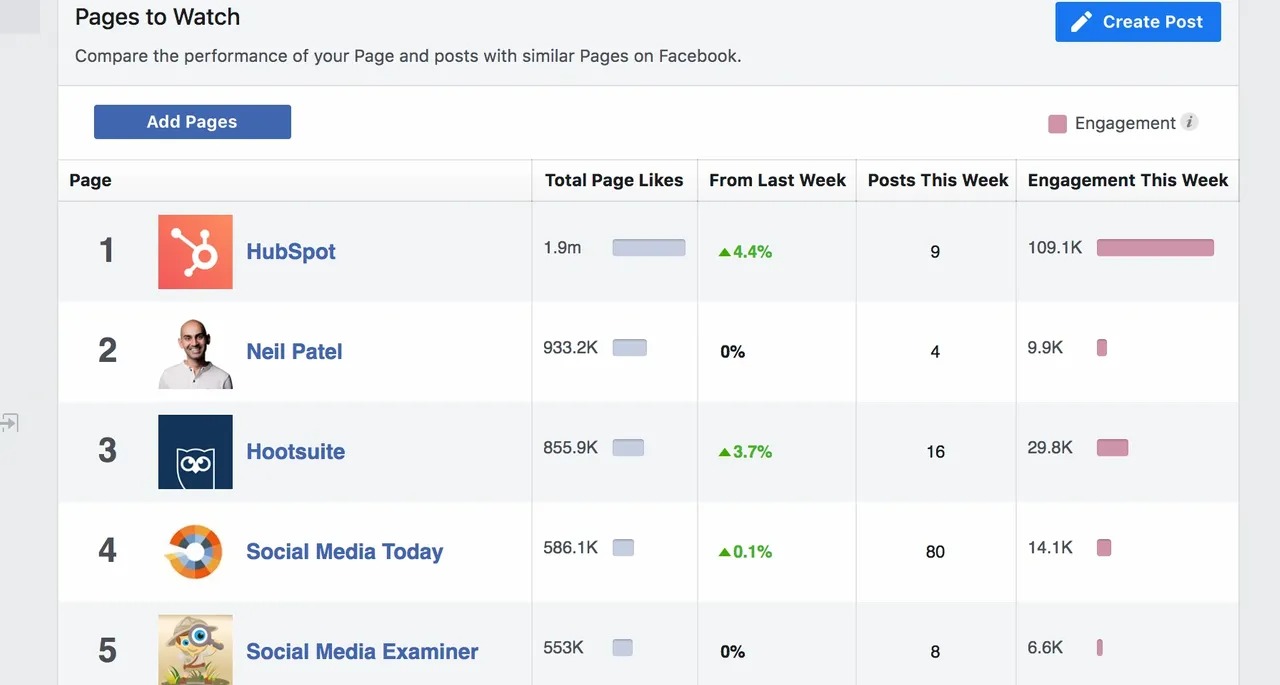 The information you have access to is limited compared to your own Insights, but for each business you watch, you will find a weekly breakdown of:
their total number of Page likes (and how it changed from last week)
the number of posts they published
the rate of engagement on posts (likes, comments, shares)
You can also click on each page you're watching and see their posts from last week in order of engagement rate. Check to see what kind of content is working well for them. Photos? Videos? Certain topics? If their audience is similar to yours, maybe you'll discover something new to try.
Where can I find it?
Click Insights at the top of your Page. If you don't see Insights, click More and Insights will appear in the dropdown.

You'll land on the Overview page, then scroll to the bottom where Pages to Watch is the last report on the page.

How do I use it?
You will need to add at least five Pages. Click the blue Add Pages button and search for any Page you want to watch. Remember to include competitors, inspirational or aspirational pages, and even business Pages outside your market and your industry.
Try searching different keywords to find more companies that would interest you to watch, and Facebook will also suggest pages that you might want to watch.
Once you have completed your list, Facebook will deliver the top five posts that received the most engagement for the week. This means you may see multiple posts from one Page and no results from others if that Page had the five best performing posts overall.
If you want to see the top posts of the week for a specific page, just click on the name of that Page in your watch list. Scroll to see the details of each post: the time and date, the copy, the image/video and graphics, the engagement the post received, and the reactions (like, love, haha, wow, sad, angry).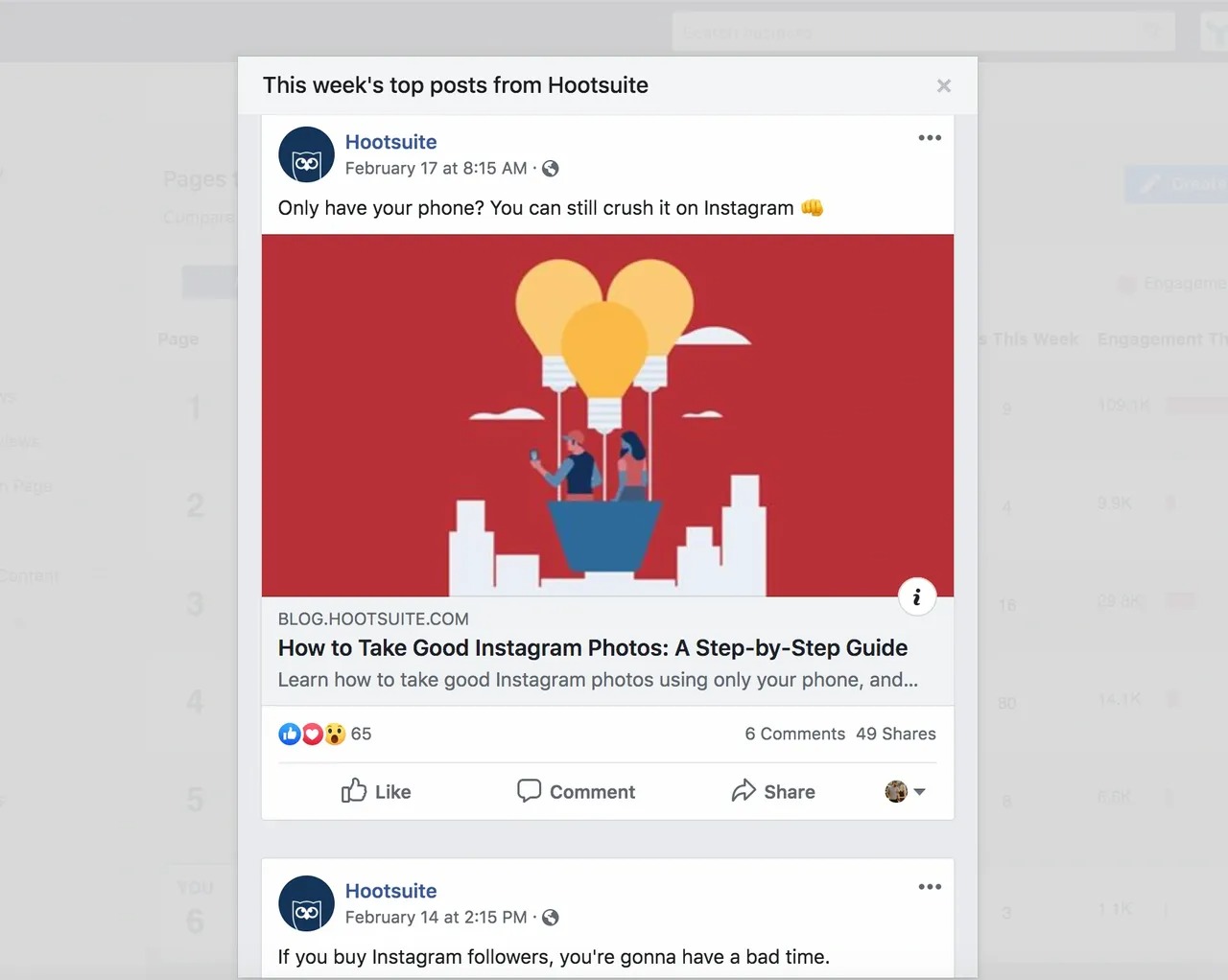 Why should I use it?
You always have more to learn, and it's beneficial to watch businesses in a similar industry—especially your competitors—as well as other businesses that may inspire and drive your own content strategy.
View the posts that are working well and take creative notes. Do you love one company's approach to imagery or graphics? Someone else's writing style? Would it work for your brand? This is where watching outside-your-industry Pages comes into play. Yes, an insurance company can find some creative inspo from a sneaker company's page.
You can also directly compare the performance of your Page with the Pages you've selected; specifically, those with similar content and a similar audience to yours. What are they doing well? What seems to resonate with the audience and what seems to be of little interest? What can you learn from that?
Note: Be sure to compare your numbers those of with realistic, relevant competitors. Don't compare your SMB numbers to the biggest companies in your industry; view those in a more aspirational context.
In the end, putting some effort into researching the competition and finding Pages to emulate will enhance and inform your content strategy in countless ways.