Your Google Business Profile (GBP) is like your digital storefront, and optimizing it can significantly impact your business's visibility in local searches.
Whether you're a coffee shop owner in Regina, a contractor in Saskatoon, or a boutique in Moose Jaw, mastering the art of optimizing your GBP is essential for attracting more customers in your local community. It's often the first time they'll see your business online, so make a great first impression.
Following are the knowledge and tools you need to outshine your competitors and stand out in the crowded online marketplace. We'll touch on the most recent changes to the GBP algorithm, share best practices, and provide our expert recommendations to help you reach the coveted top spots in local search results.
What's Changed with Google Business Profile?
In 2023, Google rolled out some significant updates to GBP that impact the way your business can manage its online presence.
Managing Your Business Profile Has Never Been Easier
The first major change that deserves your attention is the new, user-friendly way of managing your GBP. Say goodbye to the need to log into Google My Business; now, it's as simple as searching "My Business," "Google Business Profile," or your exact business name on Google.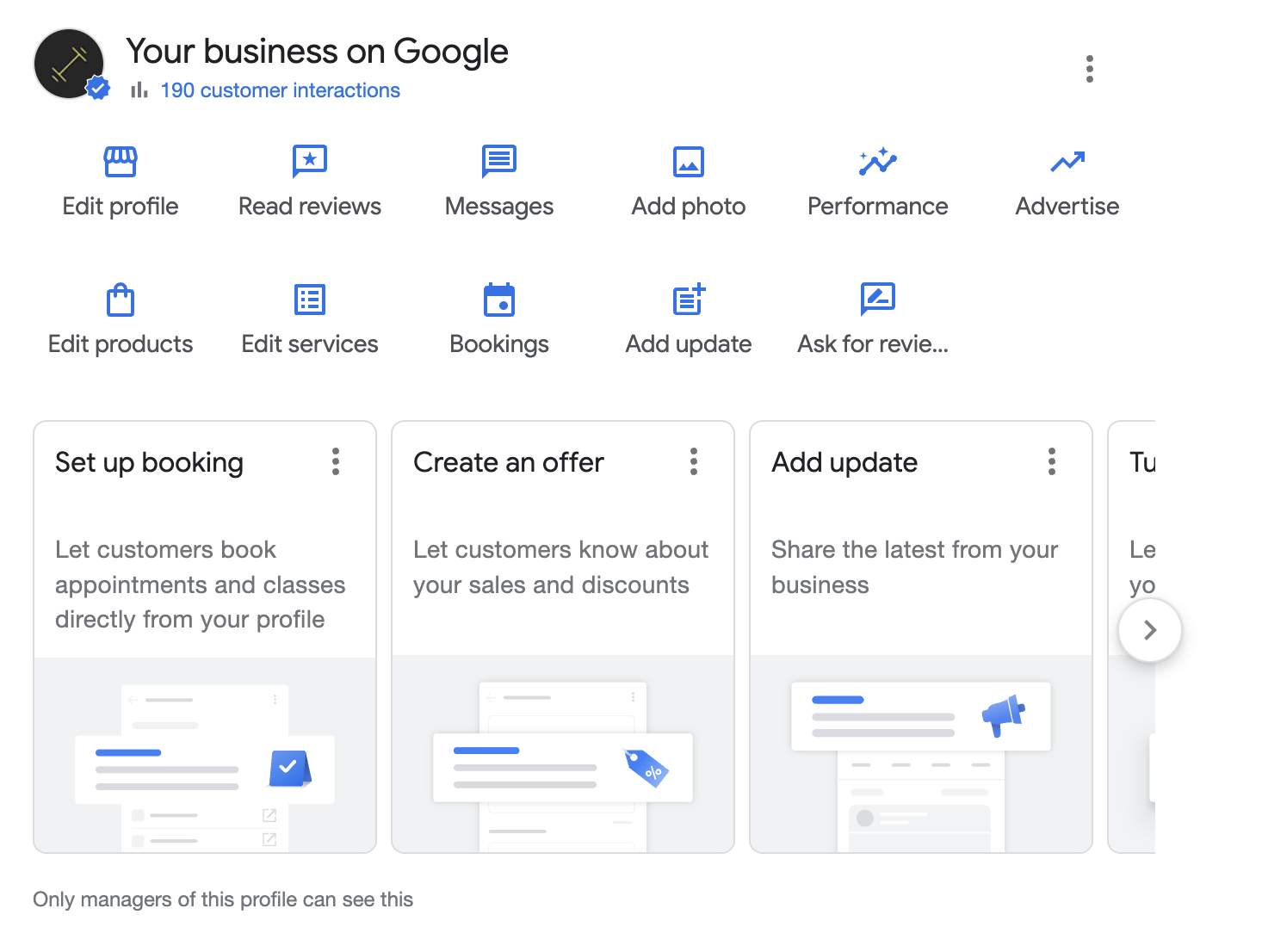 The Power of the Local Pack
The Local Pack, sometimes referred to as the "Map Pack," is a game-changer in the world of local SEO and GBP optimization. It's the valuable real estate that appears at the top of Google's search results, showcasing a select few businesses (usually 3 or 4 of them, as seen below) prominently on a map. These are the lucky ones that get the spotlight and, more importantly, the lion's share of user attention. It's where you want YOUR business to appear!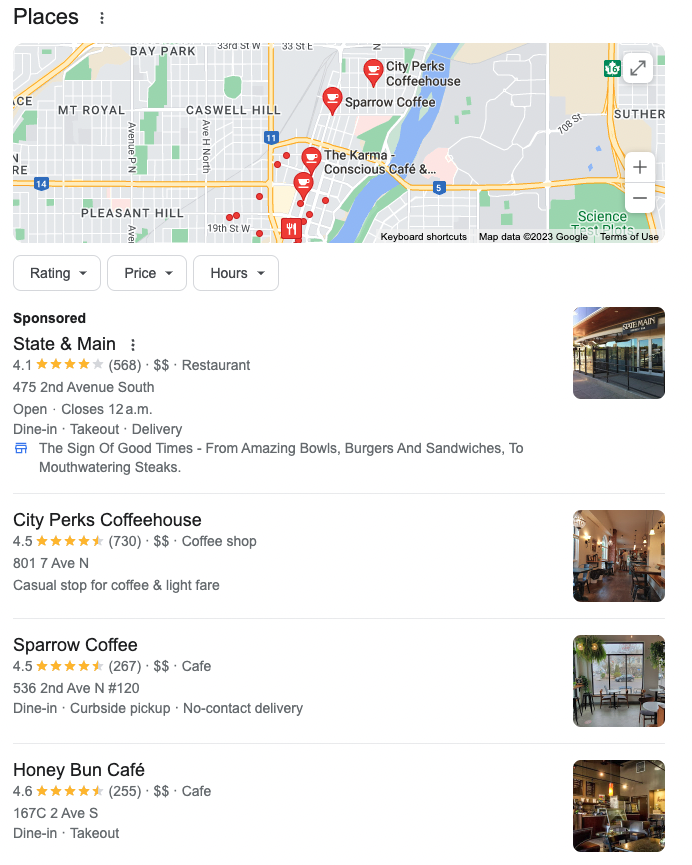 Securing a spot in the Local Pack is the ultimate goal for any business. It's like having a prime location on Main Street in the digital world, where potential customers can't help but notice you. The Local Pack is where businesses thrive, and it's where local SEO magic truly happens. 
If you're serious about enhancing your online presence and attracting a flood of local customers, landing in the Local Pack is an essential part of your GBP optimization journey.
Decoding the Google Business Profile Algorithm: Top 10 Ranking Factors
Now that we've covered the exciting changes in managing your Google Business Profile, let's turn our attention to the ever-crucial GBP algorithm. We all know that GBP plays a pivotal role in local SEO, but understanding how it all works can be a bit like deciphering a secret code.
Luckily, the experts at Whitespark have done some extensive research and unveiled the top 10 GBP ranking factors. These factors are the key to enhancing your local SEO game and making sure your business shines in the crowded online marketplace: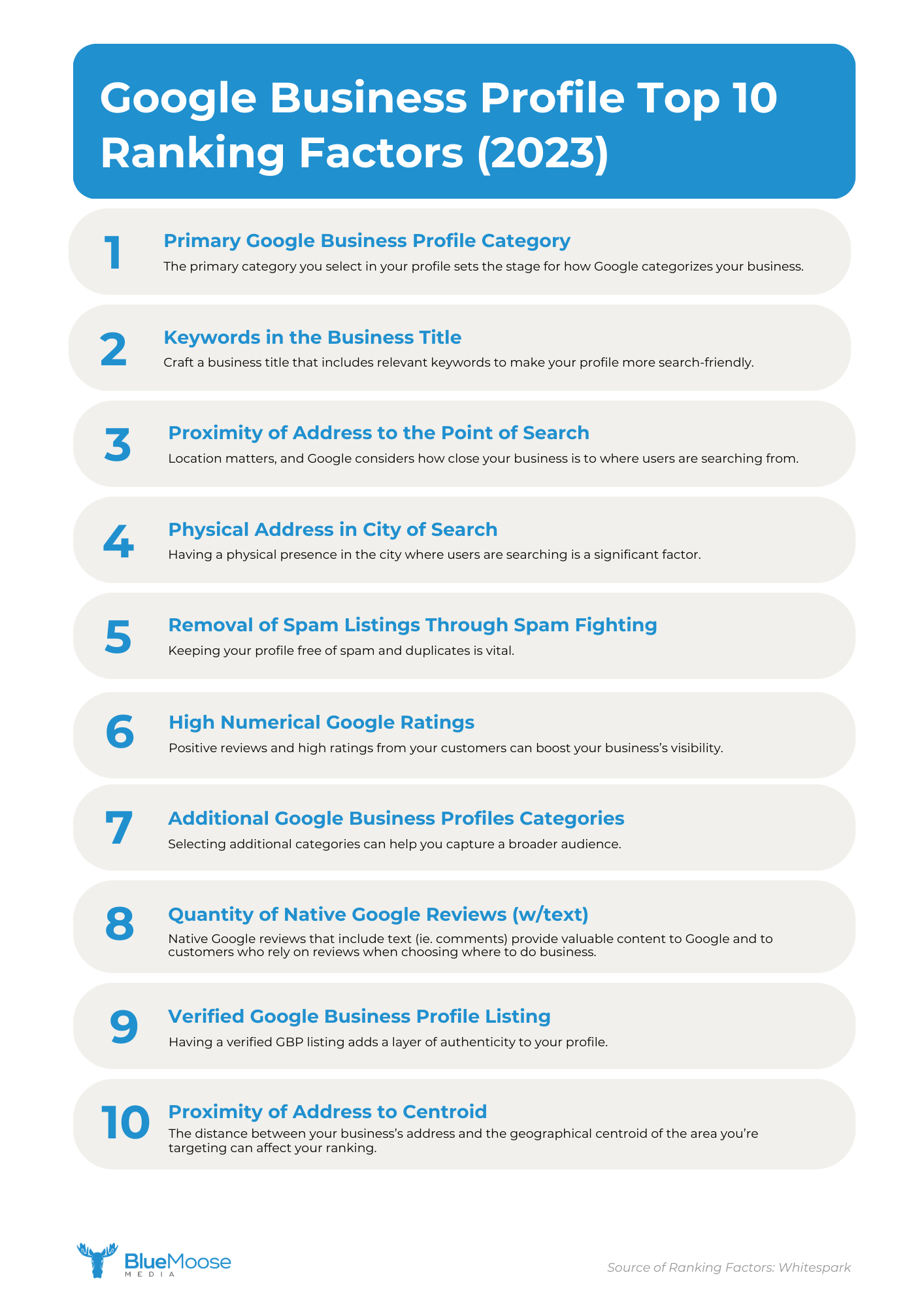 Primary GBP Category: In your profile, your primary category selection sets the stage for how Google categorizes your business.
Keywords in the GBP Business Title: Craft a business title that includes relevant keywords to make your profile more search-friendly.
Proximity of Address to the Point of Search: Location matters, and Google considers how close your business is to where users are searching from.
Physical Address in City of Search: Having a physical presence in the city where users are searching is a significant factor.
Removal of Spam Listings Through Spam Fighting: Keeping your profile free of spam and duplicates is vital.
High Numerical Google Ratings: Positive reviews and high ratings from your customers can boost your visibility.
Additional GBP Categories: Selecting additional categories can help you capture a broader audience.
Quantity of Native Google Reviews (w/text): Native Google reviews that include text (ie. comments) provide valuable insights for both Google and potential customers who rely on reviews when choosing where to do business.
Verified GBP Listing: Having a verified GBP listing adds a layer of authenticity to your profile.
Proximity of Address to Centroid: The distance between your business's address and the geographical centroid of the area you're targeting can affect your ranking.
Best Practices + Advanced Recommendations for Your Google Business Profile
As you continue your quest to conquer the local SEO landscape, it's time to look at some more advanced strategies that will set your business apart from the competition. Coming up are some insights and techniques that can truly make a difference.
Tip #1:
Optimize Your Primary Business Category
Remember, the primary business category is the number one factor that Google considers when determining where to position your GBP in results. So, naturally, it should be your top priority for optimization. But here's where we take things up a notch.
You might be wondering, "How can I optimize my primary business category when Google's list seems quite limited?" Well, that's where the magic of keyword research comes into play. We're talking about discovering the keywords that can elevate your Google Business Profile to new heights.
Keyword research is the process of identifying the specific words and phrases that people use when searching for businesses like yours. By understanding these keywords, you gain a deeper insight into what your potential customers are looking for.
To help with keyword research, you have a choice of free and paid tools at your disposal. For those on a budget or just starting out, Google Keyword Planner and WordStream Keyword Tool offer excellent free options. If you're ready to take your research to the next level, consider investing in paid tools like UberSuggest or SEMrush for more comprehensive insights.
How to Conduct Keyword Research
Step 1: Create a List. Start by listing all the applicable business categories that Google provides. You might have a handful or a dozen – the key is relevance to the product or service you offer.
Step 2: Conduct Keyword Research. Use your chosen keyword research tool to identify which category receives the highest monthly search traffic. 

For example, imagine you're running a fitness center and you're given the option to choose between "Gym," "Fitness Center", "Yoga Studio" and "Physical Fitness Program" as your primary business category. Which one should you pick?
By diving into keyword research, you can determine that "Gym" receives the highest monthly Google search traffic in your area. Armed with this knowledge, you confidently select "Gym" as your primary business category, setting the stage for maximum visibility.
But don't forget about the other business categories you identified earlier! They'll still play a role as valuable secondary categories, contributing to the overall ranking of your Google Business Profile.
Tip #2:
Mastering the Art of Google Reviews
In the realm of Google Business Profile optimization, reviews reign supreme. Once you've fine-tuned your profile, reviews are the next most important way you can keep your business profile ranking high. 
There are three critical ranking factors associated with reviews, and they hold the keys to your GBP's success.
First up, it's all about the numbers. The more reviews you have, the better. The sheer quantity of reviews can have a significant impact on your profile's ranking. 
While quantity is important, the quality of your reviews is equally, if not more, important. A business profile with a 4.7-star rating and 200 reviews often outranks one with a perfect 5-star rating but only a handful of reviews. 
Your goal should be to amass as many 5-star reviews as possible in order to catch the eye of potential customers and boost your profile's visibility. Ultimately, the BEST version you can get is a 5-star review with a comment about what they loved about working with your business. It's about showcasing the real-world satisfaction of your customers for others to see.
Note: Encouraging your customers or clients to leave 5-star reviews is essential. Don't hesitate to provide incentives if necessary; it's a long-term strategy that's well worth the effort.
The Challenge of Customer Reviews
When was the last time you left a review for a business? For most of us, it can be a rare occurrence. That's why it's crucial to be proactive in seeking reviews from your satisfied clients in the form of an email requesting reviews (provide a link!). It's a gradual process, but the rewards are substantial.
Tip #3:
Staying Relevant on Google is the Key to Long-Term Success
Here's a golden nugget of wisdom: a Google Business Profile that remains active and relevant will draw in customers and outperform profiles that lie dormant. 
The common mistake many businesses make is setting up their profile and then forgetting about it entirely. Please, resist this urge! Google loves profiles that are vibrant and up-to-date.
So, how do you keep your GBP buzzing with activity and relevance? Here are 4 essential strategies:
1) Respond to ALL Reviews
Remember the significance of reviews? Well, here's another layer of importance – responding to reviews. Yes, that means ALL reviews, even the negative ones. While you ideally want to avoid negative reviews, they do happen. When they do, it's an opportunity, not a setback.
Responding to reviews, especially negative ones, showcases your commitment to customer satisfaction. Imagine stumbling upon a business with a negative review and no response from the business itself. It doesn't bode well for their reputation. By addressing negative feedback, you not only have a chance to rectify the situation but also demonstrate your dedication to improving and making things right. Pro Tip: Got a negative review? Respond by asking them to contact you offline with a phone number or email, where you can continue the conversation and problem-solve together.
2) Embrace Google Posts
Google Posts is a powerful tool that allows businesses to shine a spotlight on promotions, upcoming events, or important updates. Think of it as an additional channel to broadcast your message to potential customers. By regularly using Google Posts, you keep your audience engaged and informed about your latest offerings.
3) Refresh Your Photos
While the photos you upload to your Google Business Profile don't directly impact your ranking, they play a vital role in keeping your profile visually appealing and engaging. The last thing you want is for users to encounter the same tired images every time they visit your profile. Combat visual fatigue by regularly adding new photos that showcase your services, your team, and the interior or exterior of your establishment.
4) Have an SEO Strategy
Supercharge your local SEO efforts with a well-crafted SEO strategy, because your website also plays a role in your local SEO presence. 
A strategy would include on-page SEO, which involves optimizing your website with relevant keywords, and off-page SEO, where you aim to gain high-authority backlinks to boost your domain authority.
If these terms sound like another language to you, check out our on-page SEO fundamentals for basic insights into what a beginner needs to know about on-page SEO.
Take the Next Step to Boost Your Local Presence
We're just scratching the surface of what you can achieve yourself as a digital marketer. To harness the full potential of Google Business Profile and local SEO, consider taking your knowledge and skills to the next level with our Digital Marketing Training.
Whether you're a small business owner, entrepreneur, or marketing enthusiast, our training program provides hands-on guidance that will empower you to market any business online with confidence.