What are people seeing when they search YOUR business on Google?
When people search on Google for a product or service near them, they're usually very close to making a purchase. Knowing this, it's important the information about your business that shows up when people search Google is as accurate, complete, and optimized as possible.
If you're just getting started with your local SEO strategy, your Google My Business (GMB) listing is a great place to focus your efforts. It's a free tool that lets you manage how your business appears on Google Search and Google Maps, and is vital for improved search discovery.
Many local businesses just claim their GMB listing and forget about it. What most businesses don't realize is that there are a variety of other features you can use to optimize your GMB listing—to help grab readers' attention, and to increase how you rank in local search results.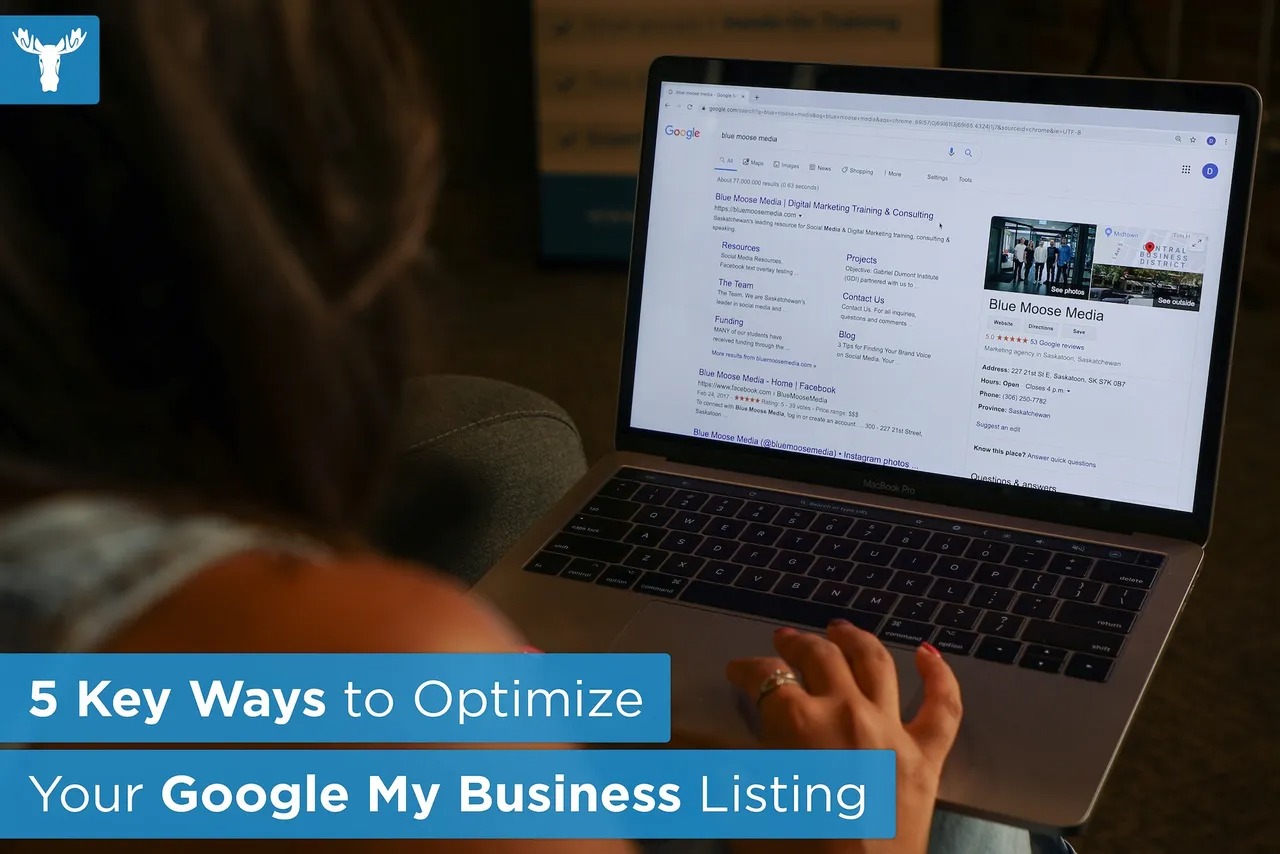 1. Once you've created or claimed your GMB listing, VERIFY your listing so that others cannot claim your business listing as their own.
There are several ways to verify your listing: by postcard, phone, email, instant verification or bulk verification. For most businesses, verification means requesting, receiving, and reading a verification postcard from Google. Once you have selected a verification option, just follow the on-screen steps.

2. Complete all the info Google asks for. There are a variety of questions Google wants you to fill out to complete your GMB profile. Completing your listing as thoroughly as possible will make it easier for potential customers to find more information about your company. And if you don't fill out that information, someone else could. Many business owners don't realize that anyone can suggest an edit to your business listing — and that includes your competitors.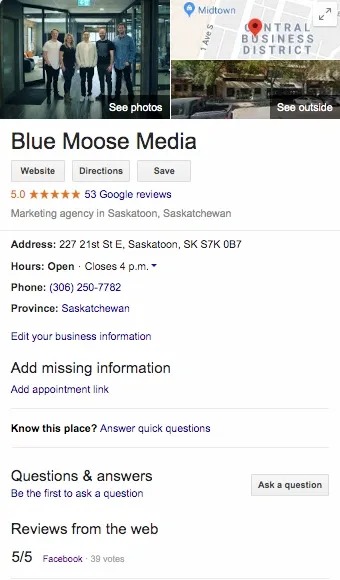 NOTE: Because anyone can 'suggest an edit' to your listing, it's important to A) get everything right the first time (so you don't encourage random people to make their own changes) and B) periodically log into your GMB dashboard and make sure all the details look right.
Most info is straightforward to complete but here are a few things worth noting:
Select primary and secondary business categories—or create custom categories—that best identify and describe what your company does.
Enter a geographical radius your business serves, physically and/or electronically.
Include 'services' if it's available to your business (must be service-based). You can create categories of the services you provide, list each specific service with a full description of up to 1,000 characters, and indicate the cost.
Write a short business description to tell your prospective customers your story, what makes your business unique, and anything else that is helpful to your customers. You're allowed 750 characters but only 250 show up in your Knowledge Panel so be sure to state your most important info (including your city) at the front of your description. Also, include relevant keywords where you can.
Add as many attributes

to your listing that are applicable to your business. These are 'nice-to-knows' for your potential customers. Depending on your business type you will be provided with different attribute options.
3. Upload visual content like hi-res images and videos, allowing GMB to show more than just text in your profile, making your listing more eye-catching. Adding photos of your business and even candid employee photography is a great way to humanize your brand and let your customers get a "behind-the-scenes" look at what your company is all about.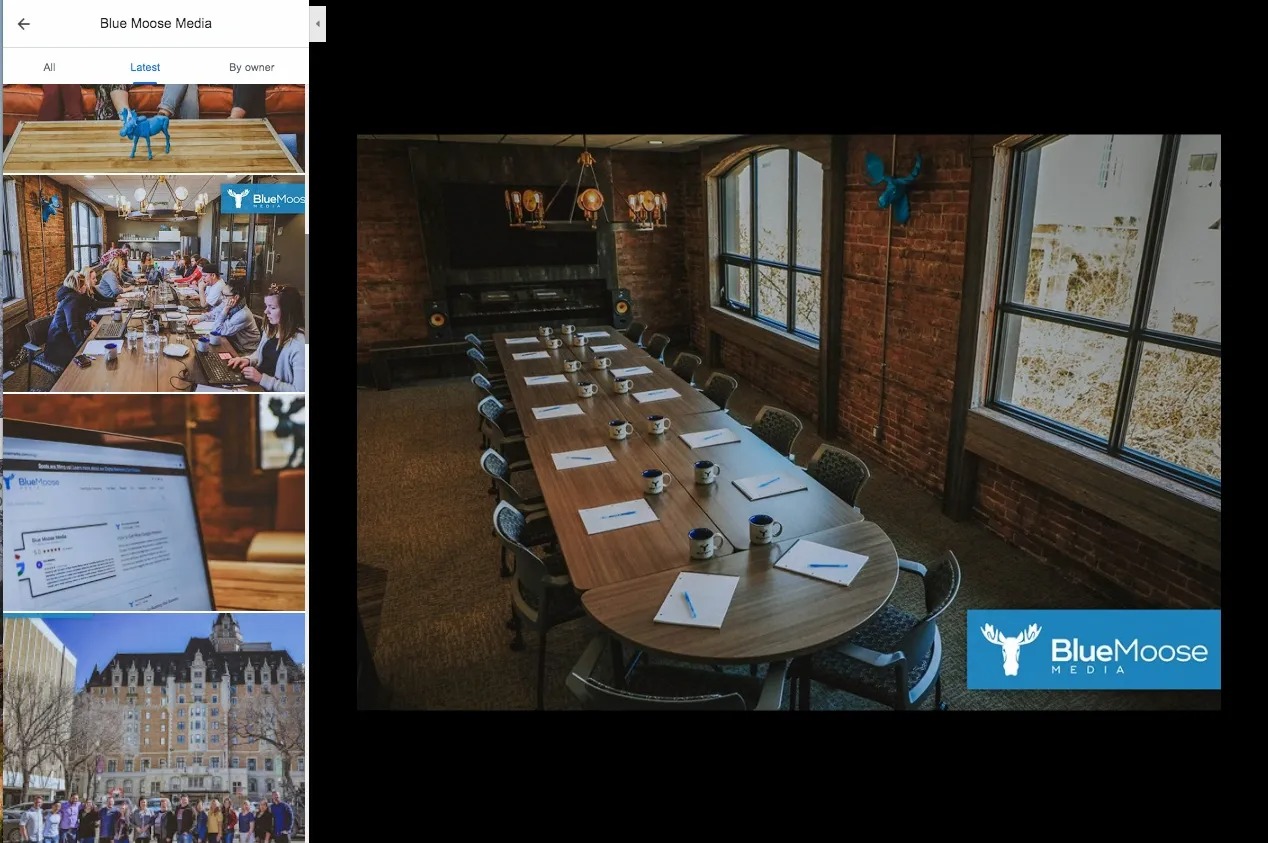 As for videos, they should be 30 seconds or less, and it's important that the primary subject of the video is related to the business location (ie. taken at the place of business, featuring people who work there).
4. Solicit customer reviews and questions to be featured directly in your GMB profile and be sure to answer or respond to all of them. Google encourages business owners to ethically ask their customers or clients for online reviews, which will appear next to your listing in Google Maps and your business' Knowledge Panel in search results. Online reviews can help your business stand out, and receiving and engaging with these reviews builds social proof, consumer trust, and positive behavioural signals for ranking algorithms.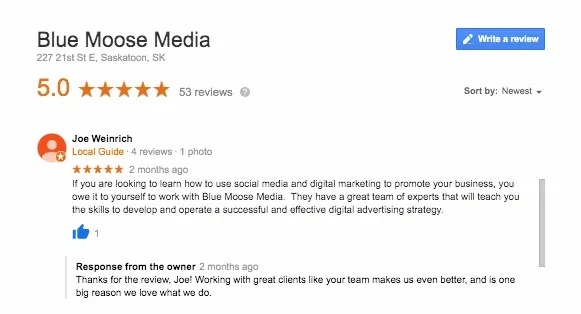 TIP: When asking someone to leave a review on Google, make it easy for them by providing them with a direct link to your Google My Business listing. See how to do this in our blog post "How to Get More Google Reviews".
5. Create content within Google Posts, which are like mini-ads or social media posts featured prominently in your Knowledge Panel. These posts are limited to 1,500 characters and the possibilities for content are endless.
Here are just a few Post ideas:
Set up an event post for a seminar or webinar with a date and time, then add a link to the registration page.
Create a post about a sale or promotion during a specific time.
Add a short description and link to a great post on your blog.
Feature a new product with a photo and a link to purchase.
Post about a holiday or community event.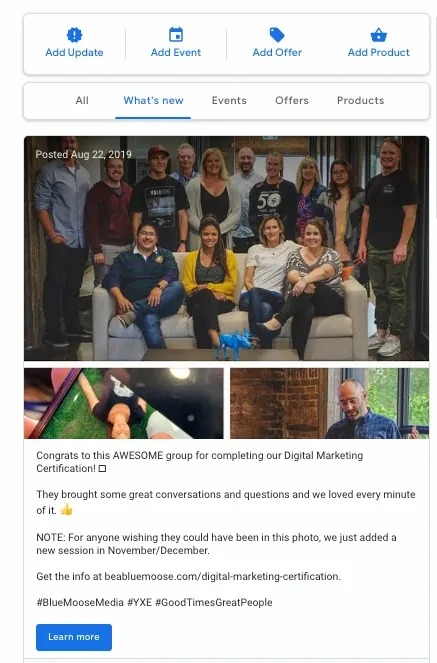 Posts are a great way to drive engagement with your GMB listing. Google is always looking at the engagement searchers and you, as the owner, are having with your listing. The more interaction, the better your chances of ranking higher in organic rankings in general.
REMEMBER: Keep optimizing your Google My Business listing, using new features as they come out, and ensuring your info is always correct and up to date.
Like what you learned? We know more things!
Our Digital Marketing Certification offers 4 full days of hands-on training. You'll learn essential strategies and tools to grow your business using social media and digital marketing. Learn more about our industry-leading course HERE.