Your brand identity includes many elements—logo, typeface, colours, taglines and more—but one of the most important is the development of your brand voice.
What is Your Brand Voice?
It's how you convey the personality of your brand; it's the tone and manner with which you speak to and connect with your audience. Every time you talk, write, design, post, respond, launch, thank, and connect with others, you are exercising your brand voice and people are building an impression of you at every interaction they have with your brand.
Your brand voice plays a vital role in establishing a consistent picture of your brand across all channels and positioning yourself as an easily identified and authoritative source for your area of expertise. On social media, your brand voice serves as a framework for the social content you develop, and ensures you speak to your audience using the same personality, language and tone at all touch-points.
In this post, we're going to provide you with 3 tips to help develop your brand voice so you can apply it consistently across your social accounts.
Developing Your Brand Voice
1. Know Your Audience
As you work on defining your voice, it will be helpful to know who you're talking to, beyond basic demographics. Who is following you? Who do you want following you?
Envision one person from each of your target audiences (ie. working moms, university students, small business owners, etc.) and answer these questions for each person:
What does he or she care about?
What does he or she worry about?
Where does he or she work?
What are his or her interests?
What does he or she do for fun?
And, most importantly, what does he or she want from your brand?
Getting into the mindset of the people you're trying to attract is a great way to approach defining your brand voice. Once you have a clear sense of who you're speaking to, the way you want and need to speak to them will become more clear.
2. Know Who You Are(n't)
Using this (not exhaustive—feel free to think of others!) list of adjectives for inspiration, try these exercises to help you determine direction and boundaries for your brand voice.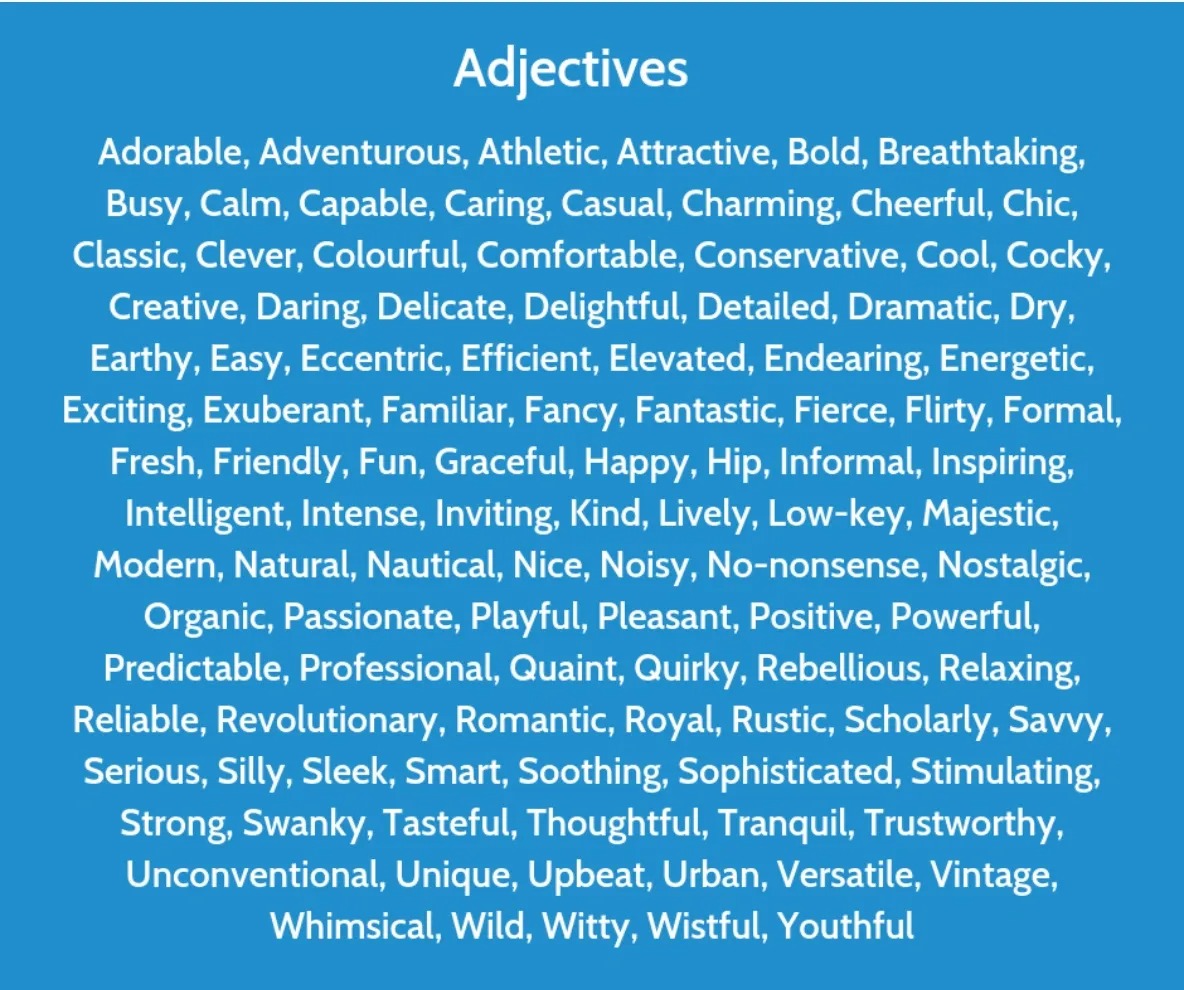 Exercise #1: Tell Us About Yourself
Choose 10 adjectives that you believe best describe your personality and tone.
Narrow that list to the best 5, ensuring they are not contradicting each other or redundant.
For example, if these were your ten adjectives:
Passionate
Fierce
Unique
Quirky
Smart
Intelligent
Positive
Upbeat
Bold
Daring
You could narrow those down by removing some of the redundancies and moving forward with the best/most fitting choices for your brand:
Passionate
Quirky
Smart
Positive
Bold
Next, refine those 5 words a bit further with the following exercise.
Exercise #2: 'We Are' vs. 'We Are Not'
We are__________. We are not __________.
Fill in the first blank with one of the 5 adjectives you chose to define your brand.
Fill the second blank with another adjective that you are NOT.
The idea is to help further define the first adjective with the second.
Like this: "We are passionate. We are not intense."
This helps define the type of 'passionate' you want (and don't want) your brand voice to convey.
Not like this: "We are smart. We are not stupid."
This doesn't further define the type of 'smart' you want (and don't want) your brand voice to convey.
Exercise #3: Make It Personal
If your brand was a person, how would you describe its personality to someone? You'd likely elaborate on individual traits a bit further, to really paint a picture.
For example, maybe you selected Passionate and Smart as two of your descriptors for your voice. Now, if we better describe these traits, we start to create a clearer vision of what your brand voice sounds like:
Passionate – expressive, enthusiastic (versus emotional or intense)
Smart – clever, quick-witted (versus cerebral or academic)
This type of definition will help ensure your social team understands the meaning of each trait without leaving it up for (mis)interpretation.
3. Find Inspiration
There are so many brands and individuals with strong brand voices. Look around and note how they make their voices come to life in social media posts and across other channels.
They don't even need to be in your industry; you can find inspiration anywhere. You'll discover businesses you'll want to emulate and others you do not want to resemble. All of this learning is valuable.
Here are a few examples of brands that are known for the voice they've developed for social media.
Calm
Their adjectives: Calm, soothing, inspirational, motivational.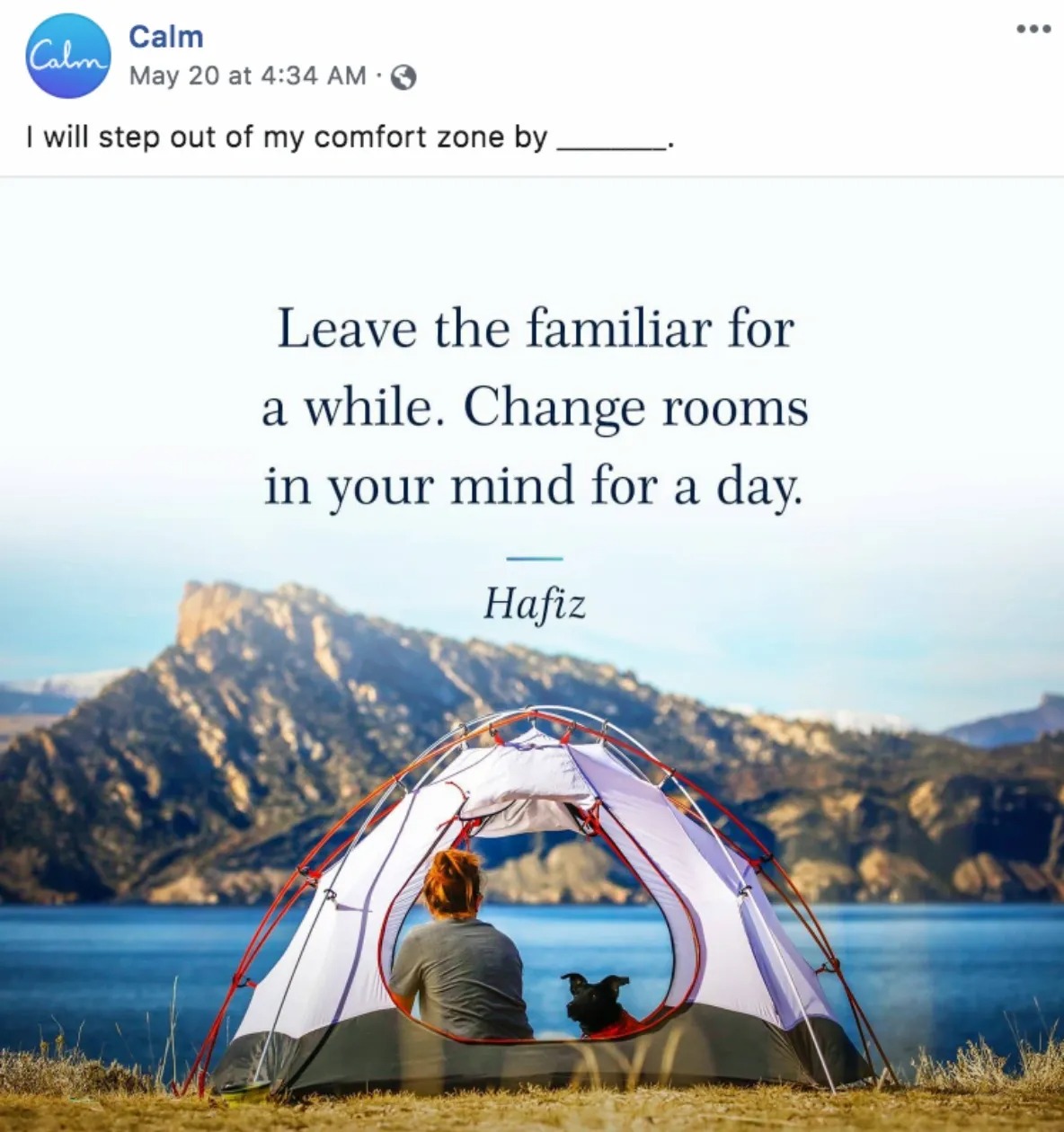 Mint
Their adjectives: Helpful, personal, compassionate.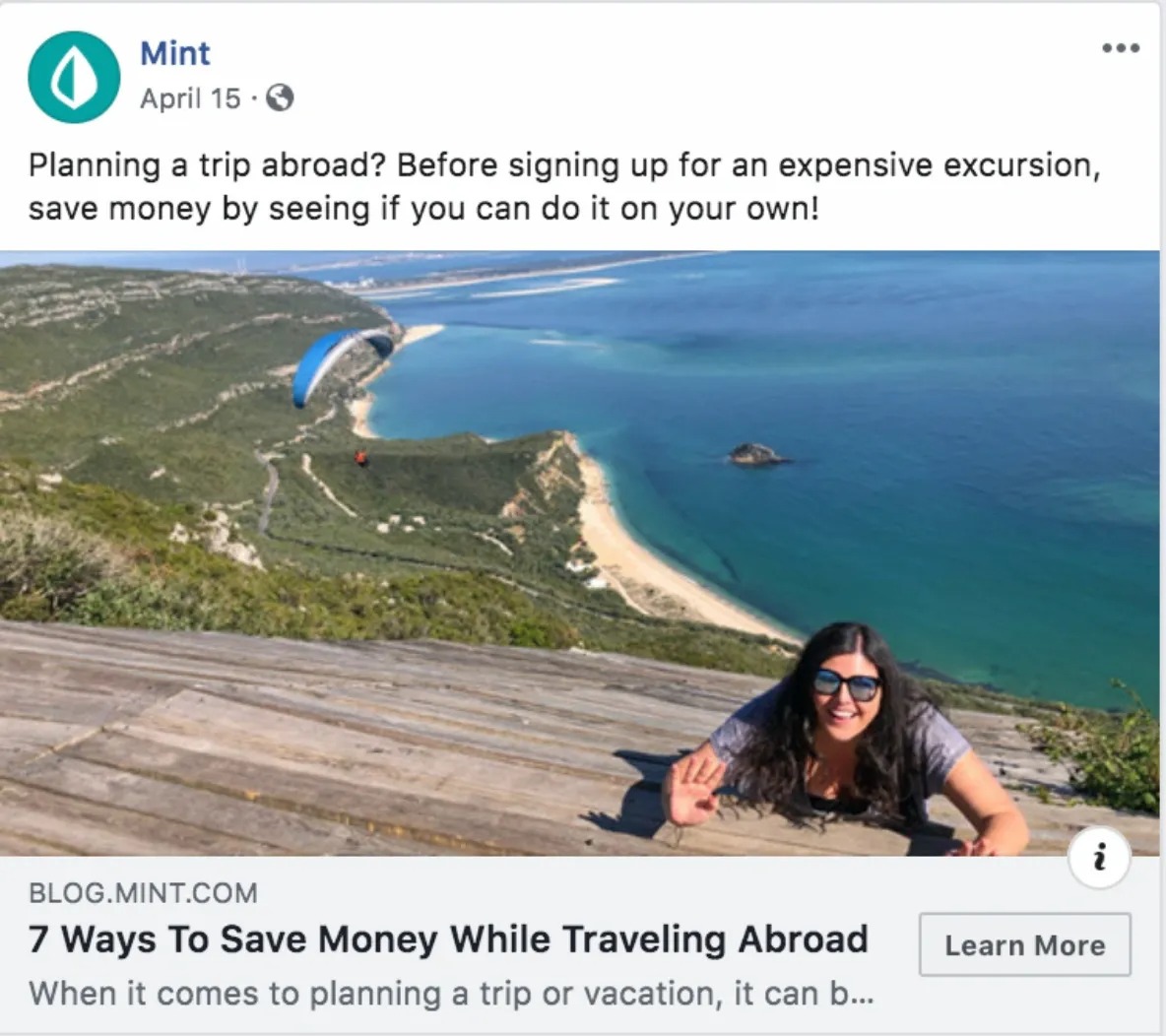 Wendy's
Their adjectives: Challenging, charming, sassy.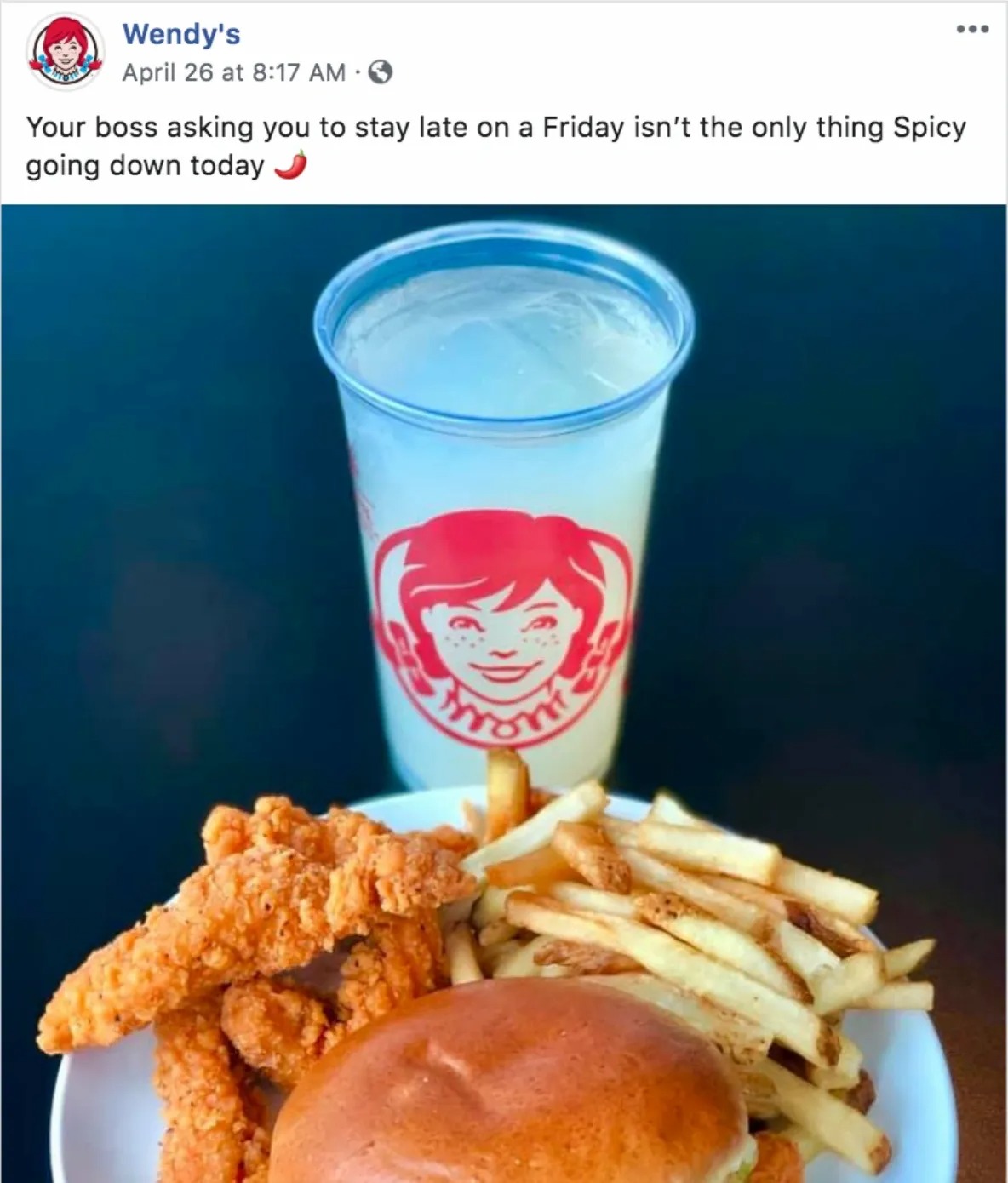 Some brand voices will be witty and charming, others will be more formal and informative, and so on. Find your niche that best reflects your brand and resonates with your ideal audience.
Having a clear voice will ensure your social team knows exactly how to interact with consumers on every platform, giving every person the same positive experience with your brand.
BONUS TIP:
Give some thought to when there may be situations that will warrant a slightly different approach. For example, if your brand voice is super-perky and upbeat, you may want to consider how that will come across when communicating with a distraught client, or in a post that supports a serious cause.
Like what you learned? We know more things!
Our Digital Marketing Certification offers 4 full days of hands-on training. You'll learn essential strategies and tools to grow your business using social media and digital marketing. Learn more about our industry-leading course HERE.