Beyond an image or a video.
You know visuals are important when it comes to content. Strong visuals grab attention, generate views, can be processed faster by the human brain, help increase understanding of content, and can even influence emotions. 
But we often hear people struggling with the question of what kinds of visuals they can use besides an image or a video. What other options are there to include in posts, blog articles, ads, and so on? 
We got you. Read on for 8 types of doable, achievable visual content that will help you generate a steady stream of stand-out content. 
#1. A Static Image
Okay, you already know this one, but remember: not any old image will do. Using your smartphone and putting some thought into it, you and your team can capture original pics of your people, your office, behind-the-scenes shots, product shots, and so much more. Note: do not rely on stock photos when you can take your own! 
Brand your images and make sure they're relevant to the topic of your post. Plan ahead to make sure someone is taking pictures of people/moments/things and gathering candid or atmospheric shots that could come in handy for different content pieces. We've taken photos of everything from our brick walls in our office, to our mugs, our team at work, and used all of it in some way to enhance our content.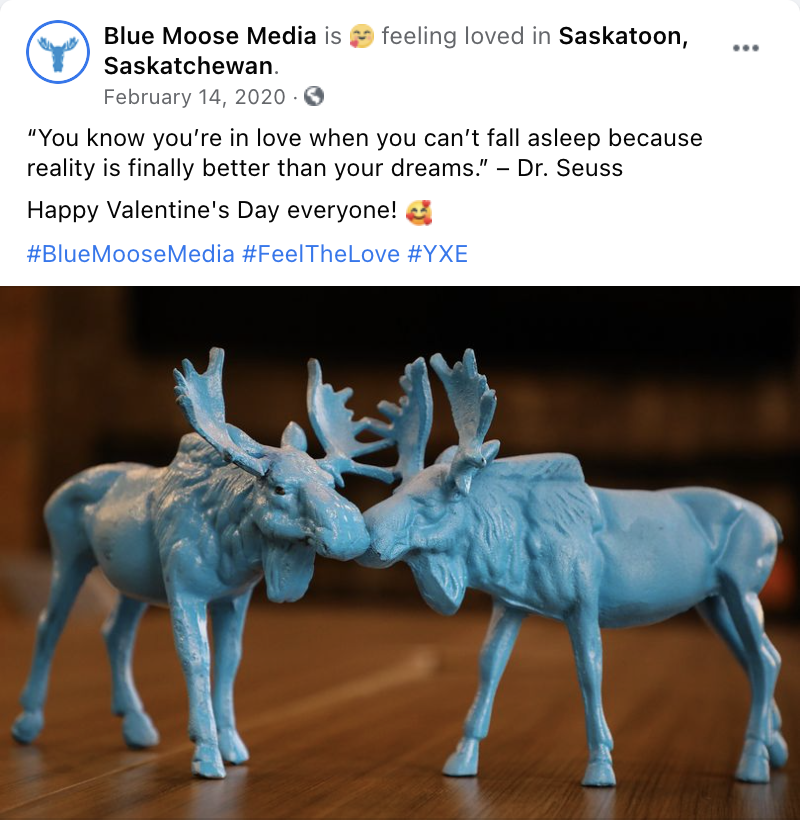 Pro Tip: Try a Carousel on Instagram or Gallery on Facebook
Publishing multiple images in one post is a great way to feature multiple products, highlight multiple features of a or benefits single product or service, tell a story, explain a process, or even create a larger canvas by presenting one large image across all your frames. Your audience will click through the frames for a more complete, informative or fun experience than you can achieve with a single image.
Instagram Carousel – the arrow guides your viewer to see more: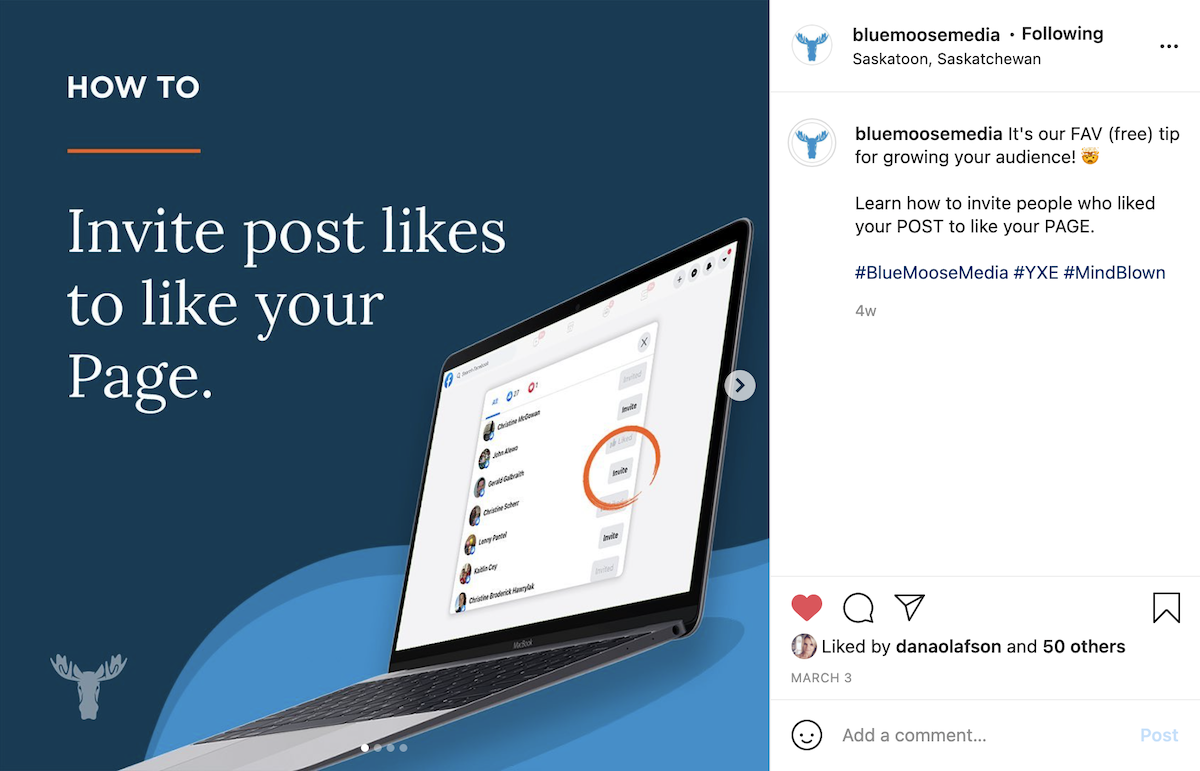 Facebook Gallery – shows your audience there is a series to view: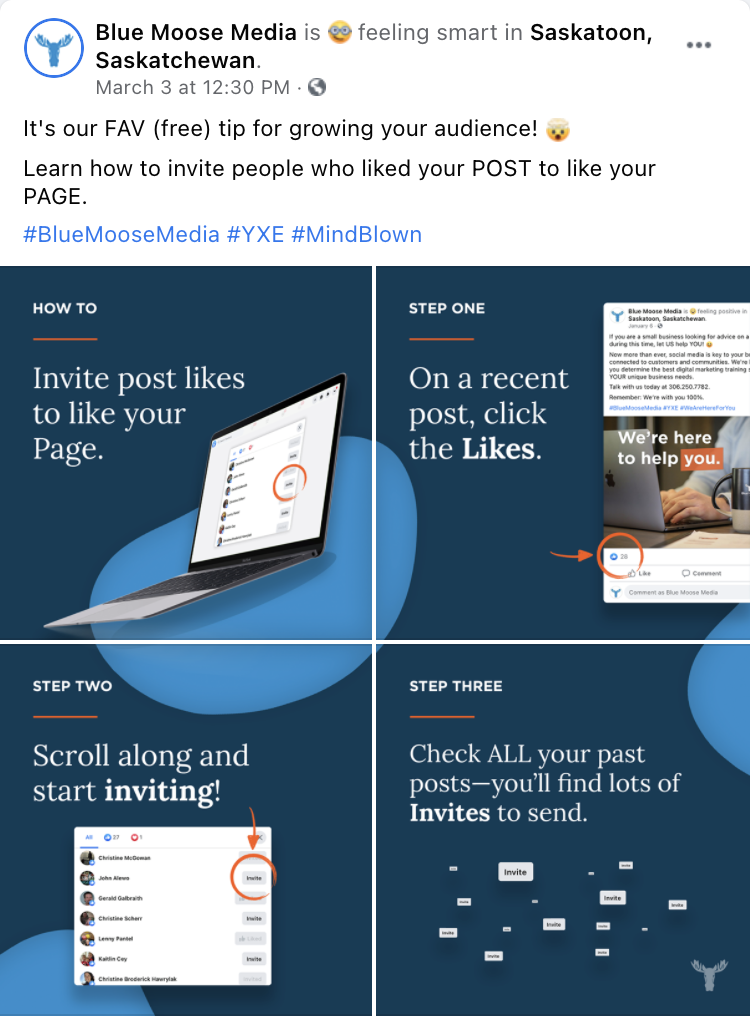 #2. Text-based Design
Text as your sole visual design element can be a high-impact option, and this is the key: less text is definitely more, allowing your message to be quickly and easily absorbed. 
A few things to remember: the typeface you select should fit with your brand, the typeface must be legible (heavy enough to read easily instead of fine, and simple versus complicated to decipher), provide enough colour contrast between the text and background so it's readable, and it is best practice to consistently use one typeface, versus a different one every time.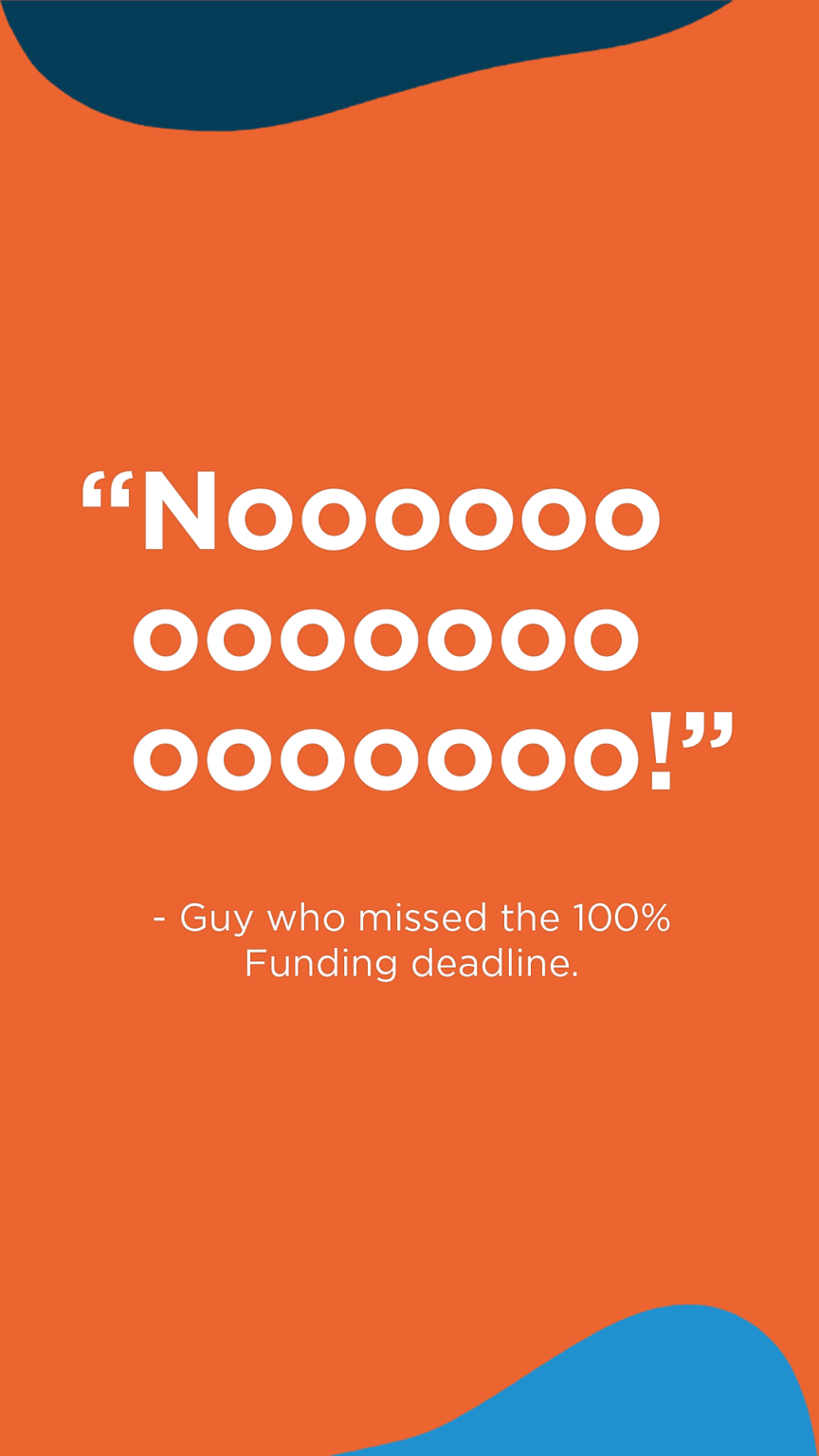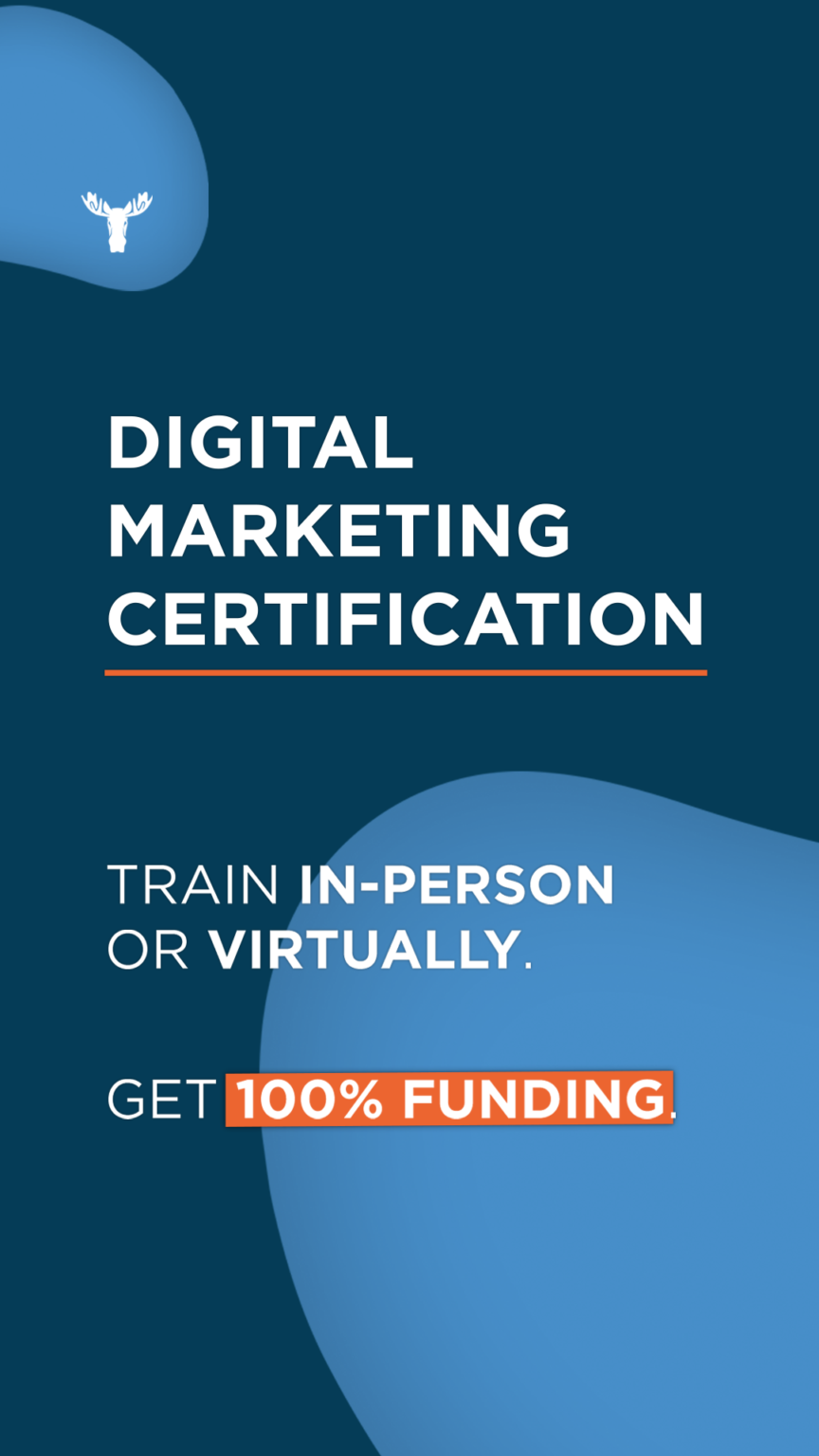 #3. Illustrations
Use illustrations like drawings, doodles, icons, and figures to deliver a unique visual flavour and to help simplify difficult-to-explain info. Other benefits: you won't need to rely on people and schedules for a photo shoot, you have complete control to achieve exactly the visual you want, and anything is possible because you can create over-the-top or abstract visuals that would be impossible to photograph.
If someone on your team can create illustrations, awesome. If not, you can find stock (which you can also then customize) in places like Canva. Remember, stay consistent with an illustration style that works with your brand.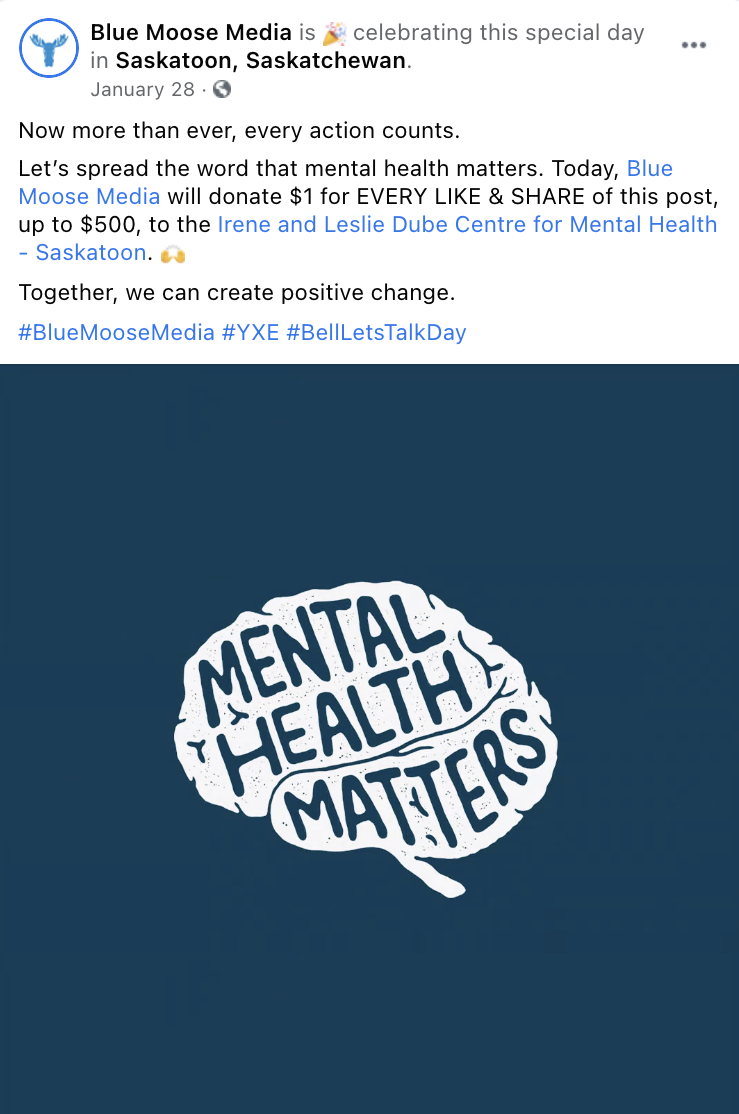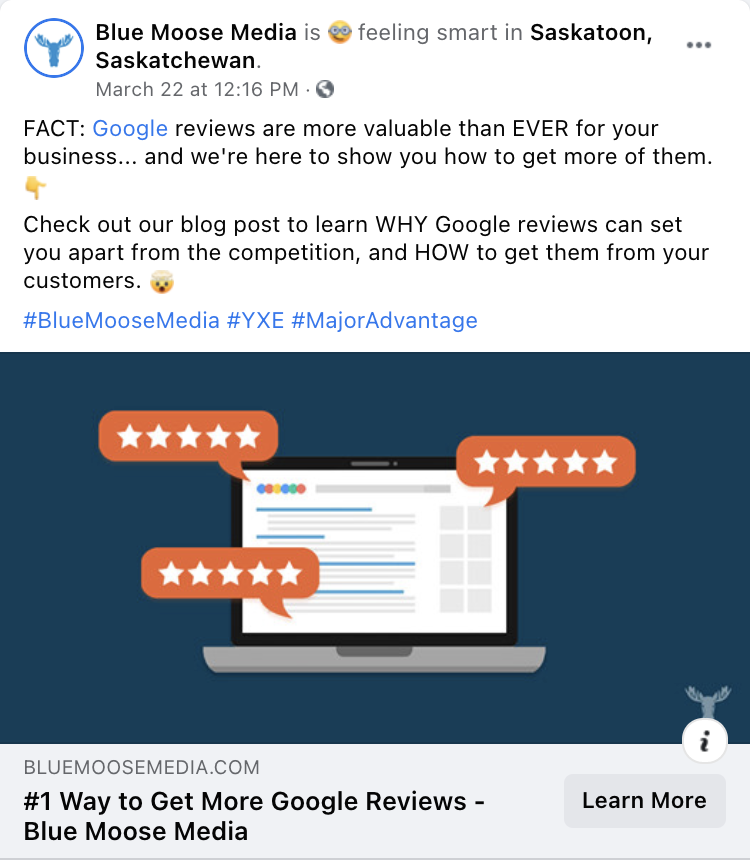 #4. Animation
We've mentioned the benefits of Canva Pro in other posts, and this is another area where it comes in super handy. You can use it to animate your text and make it pop, bounce, and slide, and you can also add animated GIFs and stickers to enhance your creative. 
Important: only use animation if and when it makes sense with your brand. Don't go overboard! A little bit of motion will help grab attention… too much will look like a circus.
#5. Videos
As you know, lots of brands create video content that is professionally captured. This can be resource-intensive and is not possible for many businesses. That's okay; the whole point of this article is to remind you of all the other options you have for visuals. 
If, however, you're itching to dip your toe in the video pool, consider shooting something for your Stories. Videos for Stories are less polished, less pressure, and are simply shot with your phone. This is a place where you can share your brand personality, have a little fun, and connect with your audience in an informal way.
#6. Infographics
This is a powerful way to deliver hard-to-digest info in an appealing way, using a combination of text and illustration, maybe some imagery, to summarize your data or info in a compelling infographic.
Whether you want to show how your business has grown, explain a process, or teach someone how to use your service, an infographic will help deliver your facts and steps in an aesthetically pleasing way.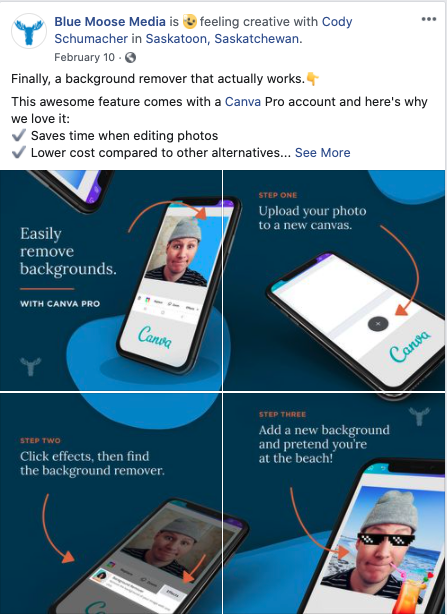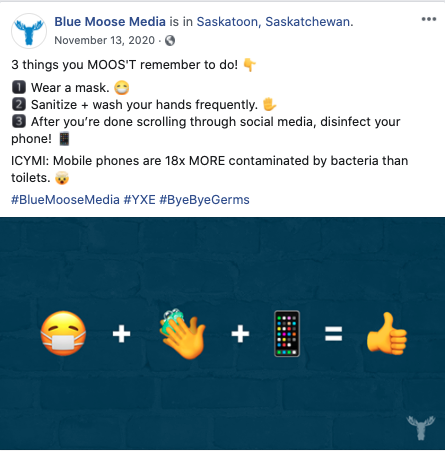 #7. Screenshots
While they may seem kind of crude compared to designed content, screenshots work well in educational content. They can show people exactly where to go, what to do, etc. within a tutorial or how-to piece of content. If you need to show the exact steps to navigate a platform or you want to share results or analytics, a screenshot is a solid choice. The following examples are from presentation and teaching slides, where we are sharing info that is easier to understand with literal visual cues from screenshots.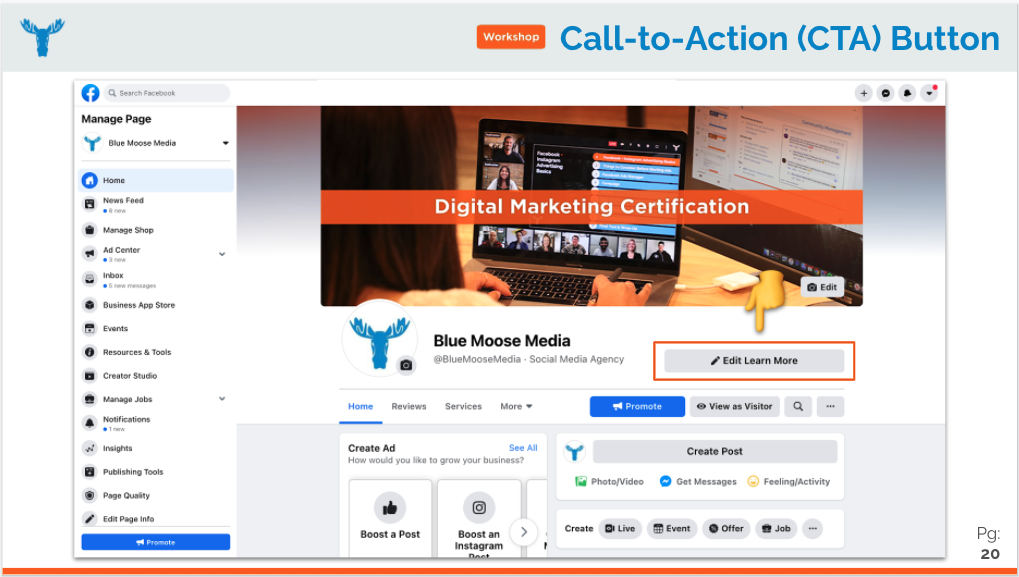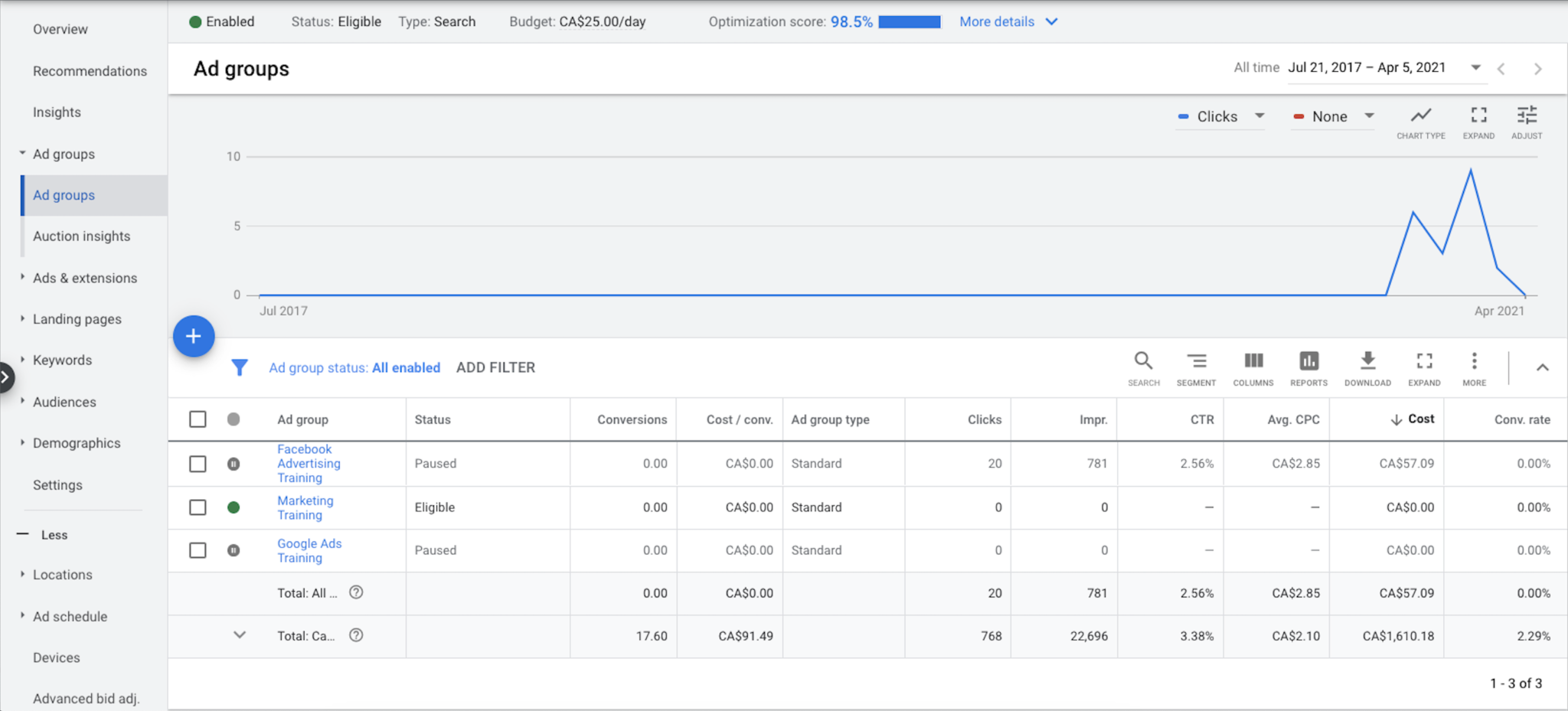 #8. Memes
Everyone knows how exciting a long weekend can be, or what it feels like to be tired at work, or how -40 is too cold to even deal with. Memes offer a quirky way for you to relate to your audience around these types of common situations. The minimal design requirements and the fact that you can use existing visuals make this an easy option to create. Remember: it's important to keep the tone positive and funny, without steering toward messages that could be rude or offensive. If the concept of using a meme works for your brand and it suits your brand voice, sprinkle one in once in awhile.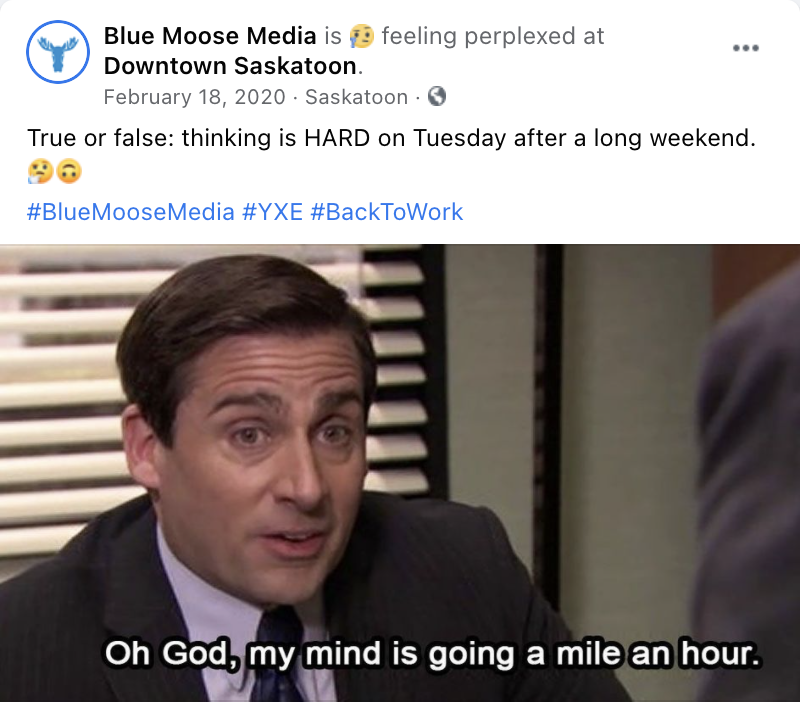 Time to challenge yourself!
While this is not an exhaustive, these suggestions for visuals should help spark more variety and creativity in your content. Some take a little more time and skill, while others are relatively easy to pull off with minimal design required. Bring these ideas to your next brainstorm session and kick your content up a notch!